Trump's Reaction To Netanyahu Congratulating Biden Victory: 'He Made A Terrible Mistake'
Donald Trump does not react well to disloyalty, and ex-Israeli leader Benjamin "Bibi" Netanyahu's congratulation of President Joe Biden after his election victory is said to have made the former president furious.
According to Axios, in Israeli journalist Barak Ravid's book "Trump's Peace: The Abraham Accords and the Reshaping of the Middle East," in segments of an interview with Trump released Thursday, he says that Trump was disappointed with how quickly Netanyahu came out to congratulate Biden.
"Bibi could have stayed quiet. He has made a terrible mistake," Trump remarked.
Trump and Netanyahu are trying to win back their previous positions with both facing pushback publicly and in the courts. Netanyahu is on trial for corruption while Trump is facing legal issues related to the Jan. 6 insurrection at the U.S. Capitol.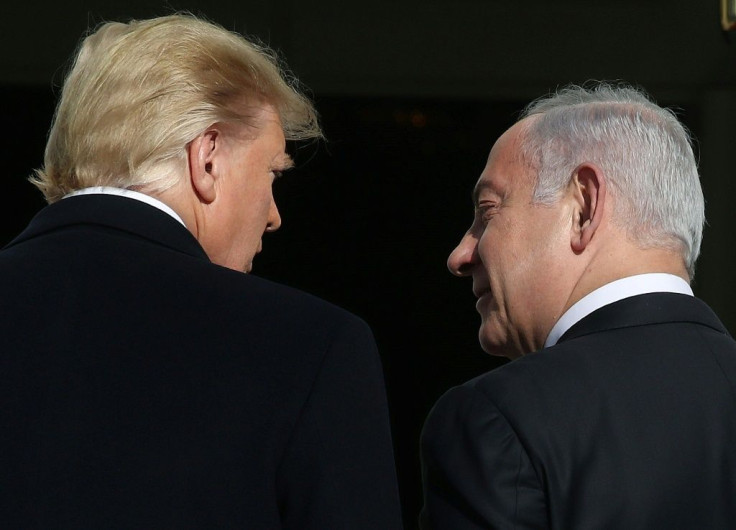 During Trump's presidency, Israel and the U.S. developed close ties, which led to the signing of the Abraham Accords, which some thought was more symbolic than productive.
"I still like Bibi. But I also like loyalty ... not only did [Netanyahu] congratulate [Biden], he did it on tape," Trump said during an interview. "I haven't spoken to him since. [Expletive] him."
Netanyahu waited 12 hours after the 2020 U.S. presidential election was certified by news networks to congratulate President Biden. After all the support Trump feels he gave Netanyahu and Israel, including the controversial change in the location of the U.S. embassy, he feels betrayed by Netanyahu.
© Copyright IBTimes 2023. All rights reserved.