UFC 200 EXCLUSIVE: Jose Aldo Talks Conor McGregor, Frankie Edgar Championship Fight And More [VIDEO]
In a mere 13 seconds, roughly the amount of time it takes to update a Facebook page, Jose Aldo saw his professional career flash before his eyes. The native of Manaus, Brazil, entered the octagon with just one blemish on his record, and left with a gash on the bridge of his nose, courtesy of Irish star Conor McGregor's fist.
But mixed martial arts is filled with second chances, and just as fast as things got ugly for the soft-spoken jiu-jitsu expert, it quickly turned around.
UFC 200 is shaping up to be the biggest pay-per-view in mixed martial arts history, and it's where Aldo takes his first step to reclaim the featherweight championship. He'll face Frankie Edgar at the event on July 9 in Las Vegas in an interim title fight, and a victory would earn him a much-anticipated rematch with McGregor with the featherweight belt on the line.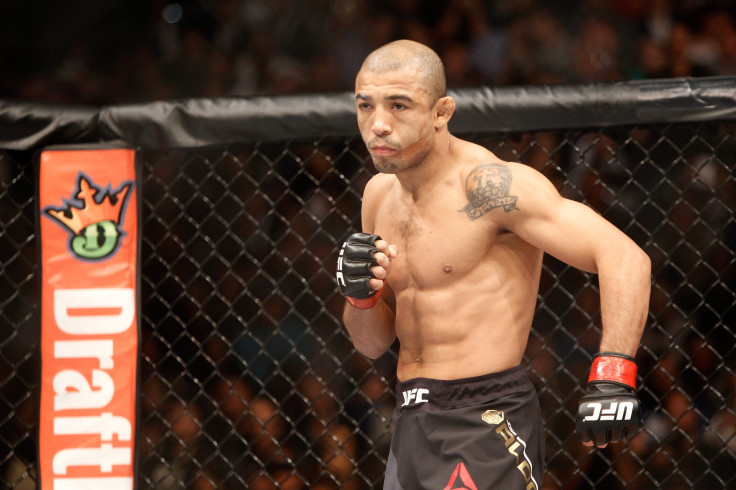 Aldo, 29, is the most dominant featherweight in UFC history, and he had won 18 straight fights until he dropped the 145-pound belt on Dec. 12. His five-year title reign ended with a left hand to the jaw. McGregor became the new champ, as well as UFC's most famous face, in the blink of an eye.
McGregor was supposed to headline UFC 200 against Nate Diaz, but he was pulled from the card after refusing to take part in the promotional tour for the event. Aldo made the rounds in New York City on Tuesday as part of that very tour, making local TV and radio appearances before stopping by the International Business Times offices with his interpreter in Manhattan.
"I think for a while he thought he [McGregor] was bigger than UFC, and that's not true because no one is bigger than UFC," said Aldo, who made his debut at age 17.
"All of us will pass, but UFC goes on."
Ultimately, a rematch with McGregor is Aldo's goal. UFC president Dana White said last week that the plan is for McGregor to defend the title sometime before UFC 205 in November.
Because McGregor is the biggest name in MMA, Aldo stands to take home a lucrative payday with a rematch. At UFC 194 in Las Vegas, he was guaranteed a purse of $400,000, as well as a post-fight pay-per-view bonus. When a rib injury forced Aldo to miss a bout with McGregor last July, White admitted that Aldo cost himself close to $4 million.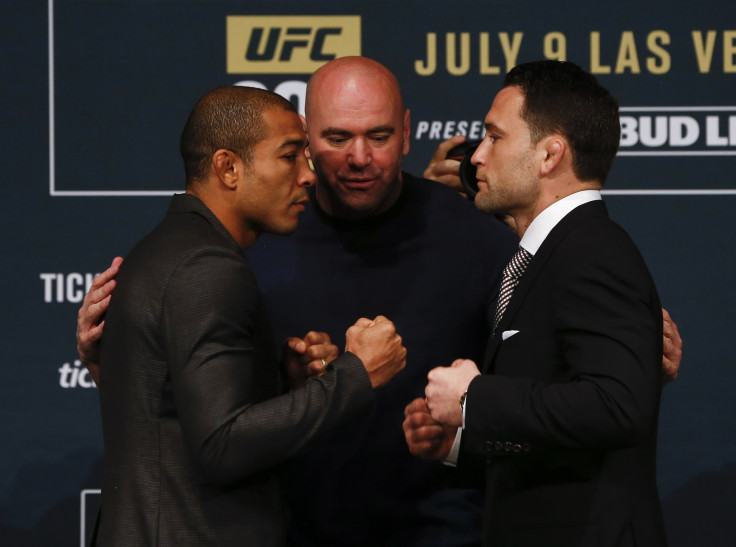 While a big payday is important, Aldo wants a rematch with McGregor so he can win back the featherweight title. Aldo refers to the 145-pound championship as "my belt," and before he was knocked out by McGregor, the belt truly did belong to only him. He became the inaugural UFC featherweight champion in late 2010 when UFC absorbed World Extreme Cagefighting, where Aldo was the champ.
Aldo had seven successful title defenses against UFC's top featherweights, including a unanimous decision over Edgar in 2013. Edgar had just made the move from the lightweight division, where he held the belt from April 2010 to February 2012. Since his loss to Aldo, Edgar has won five consecutive fights, most recently a first-round knockout of Chad Mendes in December.
"Frankie is a great athlete," Aldo said. "He's an ex-champ, as well. He's a great fighter. And I think the main thing now is that he's adapted to the new division and the new weight. But other than that, his game is still the same."
Aldo thought he had earned an immediate rematch with McGregor because of his broad accomplishments as a featherweight. But McGregor moved up to welterweight for a fight with Diaz at UFC 196, and wasn't forced to vacate the 145-pound title. UFC 200 will mark the seventh month of McGregor's championship reign without any title defenses.
The best Aldo can hope for at UFC 200 is to win the interim title, which will guarantee him a rematch with McGregor. Edgar thinks he'll get that fight with McGregor. He believes he got the better of Aldo three years ago and has predicted a knockout in July. Aldo, however, expressed confidence he won't need five rounds this time to finish off Edgar.
"I think that fight, I won all the rounds. He didn't even come close to doing anything against me except for one takedown where I got back up in a fraction of a second.
"You can rest assured that I'm gonna go in and win quickly. There is no result other than my victory."
Jon Jones vs. Daniel Cormier is the main event of UFC 200, but Aldo vs. Edgar is probably the best fight on the card. There is no clear favorite, according to the oddsmakers at Bovada.lv, and both fighters have -115 betting odds.
If Aldo does regain the featherweight championship, he'll consider making a move to the lightweight division. Aldo has previously tinkered with the idea of fighting for the 155-pound title, though his head coach, Andre Pederneiras, has said that UFC wouldn't allow him to do so without dropping the featherweight title.
But those are plans for the distant future. For now, the focus still remains on avenging those 13 seconds, and regaining "his belt."
© Copyright IBTimes 2023. All rights reserved.