US Confirms Armed Drones Deployed In Niger, Following Ambush That Killed Marines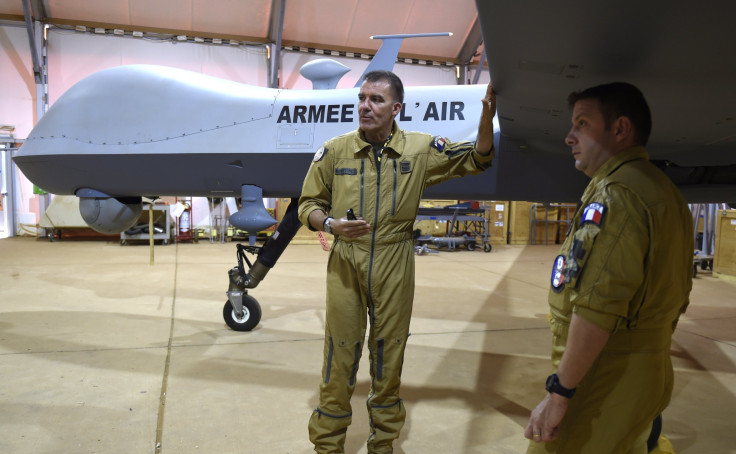 The United States military's Africa Command confirmed Monday it deployed armed drones in Niger in West Africa earlier this year to attack Islamist militants. The drones, which are currently deployed to Niger's Air Base 101 in the capital, Niamey, were previously used only for surveillance.
Samantha Reho, spokeswoman for U.S. Africa Command said, "In coordination with the Government of Niger, US Africa Command has armed intelligence, surveillance, and reconnaissance (ISR) aircraft already in Niger to improve our combined ability to respond to threats and other security issues in the region. Armed ISR aircraft began flying in early 2018," Al Jazeera reported.
Reho also called it part of the long-term strategic partnership between the two nations to counter armed groups in the region.
It was previously reported Niger's government had granted U.S. forces permission to arm their drones last November. However, neither side confirmed it.
The presence of U.S. military expanded in Niger to an 800-strong force after concerns about rising militancy in West Africa's Sahel region. In October, an ambush by a local Islamic State affiliate in western Niger killed four U.S. soldiers. Groups based in neighboring Mali have also struck the military.
According to the Associated Press, a $100 million drone base is being constructed in the central city of Agadez and until then the drones will be flown out of a base in Niamey.
The Niger Air Base 201, which is being built in Angadez, is expected to be functional early next year. However, there is no information on how many drones will be housed at the base or whether more U.S. military personnel will be brought in to the region.
Though the military views this as a good way to combat militants, critics feel drone strikes will cause civilian casualties.
Amadou Roufai, a Nigerien administration official had said, "We are afraid of falling back into the same situation as in Afghanistan, with many mistakes made by American soldiers who did not always know the difference between a wedding ceremony and a training of terrorist groups," Military.com reported.
Responding to the move, Ibrahim Maiga, a Mali-based researcher for the Institute for Security Studies, said, "The U.S. military footprint in the Sahel is difficult to grasp, just as it is not easy to assess its effectiveness. There isn't nearly enough information in the public space on this presence."
According to data by the New America Foundation, a total of 414 drone attacks have been carried out by U.S. in Pakistan since 2004. A total of 245 to 303 civilian casualties have been reported, and an overall estimation of 2,366 to 3,700 people dead.
Since 2002, total of 267 drone attacks have been carried out in Yemen, killing 1,330 to 1,716 people including 111 to 142 civilians.
The U.S. has also carried out a total of 92 drone attacks in Somalia since 2003, with an overall estimation of 666 to 743 people dead, including 22 to 37 civilians.
According to The Bureau of Investigative Journalism, U.S. has carried out 4,076 attacks in Afghanistan since 2015, killing 3,594 to 4,879 people including 150 to 313 civilian.
© Copyright IBTimes 2023. All rights reserved.