US-South Korea Drills: Beijing Will Not Sit Idle If Chaos Breaks Out, Warns Chinese Expert
KEY POINTS
The Ulchi Freedom Shield exercises will begin on Sept. 1 in South Korea
Pyongyang called the drill "a dress rehearsal for northward invasion"
An expert predicted the possibility of Japan joining the drill in future
A day after the U.S. and South Korea announced their biggest war games in years, the Chinese state media denounced the exercises, claiming it will raise tensions in the Korean peninsula and wider Asia.
The Ulchi Freedom Shield exercises, which will begin on Sept. 1 in South Korea, aim to counter the growing North Korean nuclear threat. Pyongyang has reportedly called the exercises "a dress rehearsal for northward invasion."
The drills come amid North Korea's bid to ramp up weapon development and set the ground for a nuclear test. This year, Pyongyang and its leader Kim Jong Un set an annual record for ballistic launches, firing 31 missiles during the first six months.
The Ulchi Freedom Shield will include exercises simulating joint attacks, front-line reinforcements of arms and fuel and removals of weapons of mass destruction, said reports. The drills will see the troops training together for drone attacks and other new practices witnessed in the Russia-Ukraine war. They will also practice joint military-civilian responses to attacks on seaports, airports and major industrial facilities such as semiconductor factories.
State-backed Global Times said China would be on high alert during the drills.
"The joint military exercise led by the U.S. has more meanings and purpose - not only aimed at North Korea, but also to flex the U.S.' muscle in the Asia-Pacific region and to demonstrate its military presence in the region and to deter China," Lü Chao, an expert on Korean Peninsula issues at the Liaoning Academy of Social Sciences, told the Global Times.
Urging China to be vigilant, the expert said the U.S. might deploy more strategic weapons such as aircraft carriers and strategic bombers during the drills.
"The military drills would escalate tensions in the Korean Peninsula, which have always been regarded as a 'powder keg' in the Asia-Pacific region, and the development of the situation in the peninsula would affect the peace and stability of Northeast Asia and even all of Asia," Lü warned.
The report also quoted another Chinese expert who said the drills will inevitably attract the attention of Japan. He blamed the U.S. for "building a trilateral military alliance."
"If chaos breaks out on the Korean Peninsula, it will also pose a threat to China's national security. China will not sit idly by," Song Zhongping, a Chinese military expert and TV commentator, told Global Times.
"Also, the drills will inevitably attract the attention of Japan, and the possibility that Japan will be involved in the military exercises between the US and South Korea in the future could not be ruled out," he added.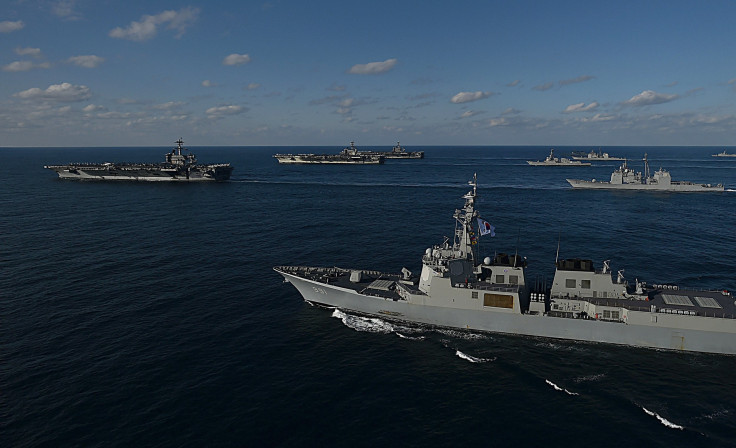 © Copyright IBTimes 2023. All rights reserved.