VIDEO Bobby Valentine Questions Kevin Youkilis Committment to Red Sox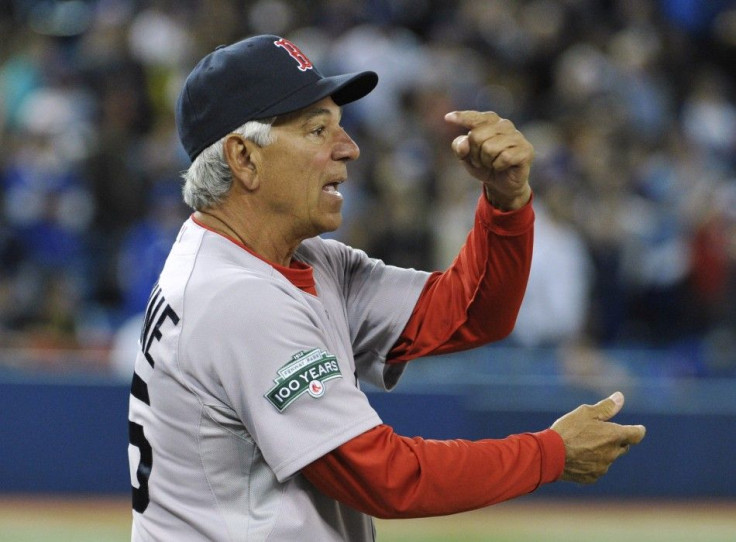 It didn't take long. Just nine games into the MLB season, Bobby Valentine is already causing controversy in Boston.
In an interview with WHDH-TV on Sunday, the Red Sox manager questioned the effort of one of the team's most popular players.
Kevin Youkilis hasn't gotten off to a good start in 2012, and Valentine was asked about his recent struggles.
I don't think he's as physically or emotionally into the game as he has been in the past for some reason. But [on Saturday] it seemed, you know, he's seeing the ball well, got those two walks, got his on-base percentage up higher than his batting average, which is always a good thing, and he'll move on from there.
Boston's third baseman is hitting just .200 in eight games this season, with no home runs. Youkilis also struggled last season, batting a career-low .258.
When he heard Valentine's comments, Youkilis denied any notion that he hasn't given 100 percent this year.
Everyone here knows I go out and play with emotion. The only time there has ever been a question is because I've been too emotional.
Valentine was hired to replace Terry Francona in the offseason. It was a controversial hire from the start, with many people in the media reporting that some in the organization didn't want Valentine. Boston management reportedly overruled general manager Ben Cherington, who didn't want Valentine to manage the Red Sox.
Boston has not gotten off to a quick start to the 2012 Season, starting the year 4-5. They are tied with the Rays for last place in the American League East.
Monday morning, Valentine said he apologized to Youkilis before Boston's 11:05 a.m. ET games against Tampa.
Click here to see the video of Bobby Valentine's comments.
© Copyright IBTimes 2023. All rights reserved.