VIDEO PSG 2-2 Manchester City: Highlights; City Grab Advantage From Champions League 1st Leg In Paris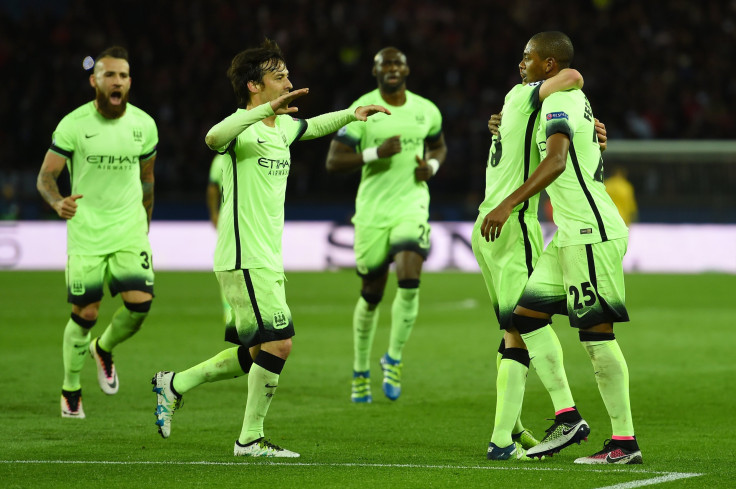 Manchester seized the upper hand on Paris Saint-Germain thanks to two away goals and a 2-2 draw from an enthralling first leg of their Champions League quarterfinal at the Parc des Princes. In a battle of two clubs looking to reach the last four of Europe's premier competition for the first time since being bankrolled by oil-rich billionaires, there was entertainment aplenty, although some of the defending was certainly out of keeping with such rarified air.
A sloppy pass from Blaise Matuidi in midfield gave Manchester City the chance to soar forward and take the lead seven minutes before halftime through a fierce finish from the excellent Kevin de Bruyne. But just three minutes later, PSG were level. Zlatan Ibrahimovic, who had earlier had a penalty saved by Joe Hart after David Luiz was tripped by Bacary Sagna, was given a comical gift by Fernando as City looked to play out of the back.
There was little let up after the interval in a game that will have been far more pleasurable for the neutral than either of the two managers. PSG appeared to have gained the ascendency when Adrien Rabiot finished from close range after Hart parried Edinson Cavani's near-post header. The visitors had every reason to feel aggrieved, however, with Ibrahimovic having clearly been in an offside position as he tried to stab turn Cavani's header in right in front of Hart.
Still, Manuel Pellegrini's side would soon be the beneficiaries of another of the game's several pieces of hapless defending. With 18 minutes remaining, City grabbed what could prove a crucial second away goal when Fernandinho was gifted the ball in the box after a mix up between Serge Aurier and Thiago Silva and the City midfielder's strike deflected into the corner off the outstretched boot of Aurier.
Sensing that they already had much to take back to the Etihad Stadium for the second leg next Tuesday, City were happy enough to see out the remaining minutes without incident, while PSG seemingly had nothing more to give. City will now have the upper hand, knowing that a goalless or even 1-1 draw at home will send them through to the semifinals for the first time in the club's history.
There was plenty riding on a tie between two clubs still desperately aiming to turn their domestic success of recent seasons into cracking through to the true elite in Europe. Yet there was little caution on show in an engrossing first leg that mixed high quality with absurdity.
A sign of things to come arrived after just 12 seconds, when awful defending from David Luiz saw him receive the fastest yellow card in Champions League history after dragging gown Sergio Aguero. Luiz would soon redeem himself when winning a penalty 12 minutes, in but not before PSG had another, arguably even stronger, penalty appeal waved away.
With Blaise Matuidi sent clean through on goal, Eliaquim Mangala, second only to Luiz in the most expensive defenders in history, clumsily went into the back of the PSG man. It should have been a penalty and a red card, but City escaped both punishments.
City escaped, too, even when a penalty was awarded soon after. Ibrahimovic's spot kick was low and firm, but Hart's hand was equally robust in repelling the ball to safety. There was a further let off midway through the period as Ibrahimovic again lacked a clinical touch shooting off target when one-on-one with Hart.
While Pellegrini's side were vulnerable at the back, they were, helped by the absence of Yaya Toure, eager into the challenge in midfield and quick to try and take advantage on the break. One transition played particular dividends to give the visitors the lead. Matuidi's sloppy pass in midfield was intercepted by Fernando, before his Brazilian partner Fernandinho set up the ultimate counter-attacking threat, De Bruyne, to give City the lead.
Underlining their lack of savvy at this level, though, the elation from the away goal would be short lived. Even the television producers were caught out when Hart passed short to Fernando, whose lax first touch allowed Ibrahimovic to close in for a challenge that took the ball past a bewildered City goalkeeper.
Boosted by that equalizer, PSG appeared to have gotten something of a grip on proceedings at the start of the second half. They were rewarded, too, by going in front for the first time, although they owed a debt to the absence of an assistant referee's flag. Their momentum at that stage could well have led to the second leg could having a very different feel, but Ibrahimovic's header soon after struck the crossbar rather than giving PSG a healthy 3-1 advantage.
As it was, some more less than top-class defending handed City a priceless equalizer that must make them favorites to progress and rescue a season that was otherwise drifting aimlessly toward the conclusion of Pellegrini's reign.
<iframe frameborder="0" width="560" height="315" src="//www.dailymotion.com/embed/video/x42jbk9" allowfullscreen></iframe><br /><a href="http://www.dailymotion.com/video/x42jbk9_all-goals-paris-saint-germain-2-2-manchester-city_sport" target="_blank">All Goals - Paris Saint Germain 2:2 Manchester...</a> <i>by <a href="http://www.dailymotion.com/footy-goals" target="_blank">footy-goals</a></i>
© Copyright IBTimes 2023. All rights reserved.