Violence Against Refugees In Europe: Tear Gas, Rubber Bullets Can Be Lethal, Doctors And Humanitarians Warn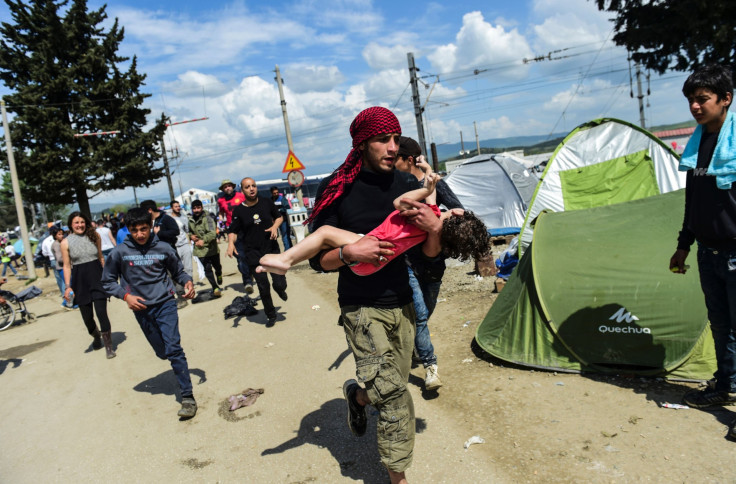 Their faces partially covered by scarves and smeared white with toothpaste, both common defenses against tear gas, members of a large group of young men approached a razor-wire fence Sunday in the small Greek border village of Idomeni and demanded to cross into the Republic of Macedonia. When they were refused passage by border officials, they resorted to throwing rocks.
In addition to tear gas canisters, rubber bullets rained down immediately and indiscriminately, spreading hundreds of yards beyond where the men stood to a residential part of the camp, striking the medic tent, children playing in the grass and a nearby space marked for vulnerable families. More than 300 people were injured — including three children struck in the head with rubber bullets — and rumors spread through the camp that a baby had died from respiratory distress.
The barrage continued for at least seven hours, according to an aid worker on the scene.
"There was no one that wasn't affected by it — women, children, the elderly, babies," Laura Samira Naude, a communications director with the Lighthouse Relief aid group, told International Business Times. "It was excessive, and it just wasn't concentrated at the people they were trying to control," said Naude, who was affected by the tear gas herself and called the experience "excruciating."
European military and law enforcement agencies increasingly have used tear gas, rubber bullets and other so-called crowd-control weapons to disperse protesters and rioters throughout the refugee crisis. Despite these techniques being deemed "nonlethal" by law enforcement, little to no research has been conducted on them and their apparent misuse that has made them incredibly dangerous and even fatal. The tactics have taken on symbolic importance, according to humanitarian advocates, as images of violent clashes with law enforcement belie the message of safety that European authorities have offered refugees.
"I had a real problem using the word 'nonlethal,'" Naude said. "It was definitely excessive, and it was horrific to watch."
More than 70 percent of all injuries from rubber bullets are considered severe by the doctors who treat them and often include loss of at least one eye, internal bleeding, or fractured skull or spine, according to a study published in March by Physicians for Human Rights and the International Network of Civil Liberties Organizations. Of the 1,925 individuals who were injured by kinetic-impact projectiles — a family of weapons including rubber bullets — 53 died from their injuries and nearly 300 suffered permanent disabilities.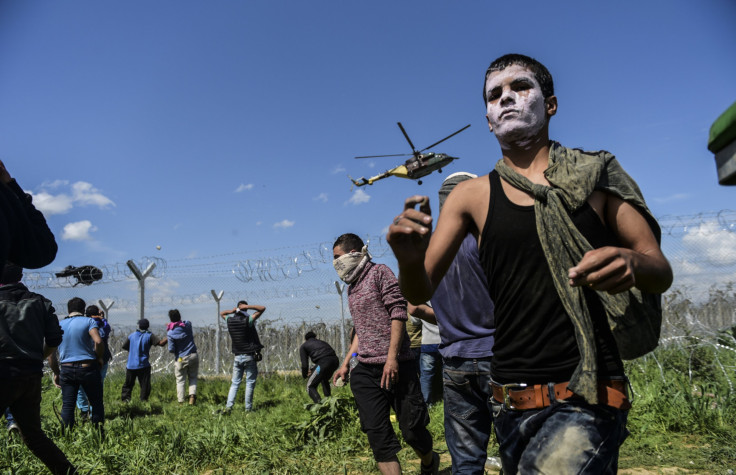 Nearly 11,000 people have been stranded along the border between Greece and Macedonia, some of them for nearly two months. Under a deal struck by the European Union and Turkey in March, all people who cross illegally from Turkey to Greece can be sent back to Turkey unless they are granted asylum. With an immigration system in place that is capable of processing a few dozen asylum applications a day, authorities have been overwhelmed and began conducting the adjudications for asylum via Skype, Naude said. Given the sheer number of people calling in at once, however, the process has continued to stall.
The vast majority of all arrivals to Europe in 2015 and into 2016 have been bona fide refugees, according to the United Nations, which defines a refugee as a person fleeing violent persecution. Most asylum-seekers want to continue on from Greece to Germany, Sweden or another Northern European country where they often already have family.
Exasperation in the makeshift camp in Greece reached a breaking point during the weekend and again Wednesday, as people became increasingly desperate to cross the border, which evoked a strong military response. While the Macedonian military has a duty to keep the peace, humanitarian observers, doctors and crowd safety experts criticized both the style and size of the response.
"With military performing law enforcement duties, they have to abide by law enforcement rules," said Ara Marcen Naval, an adviser on arms control for Amnesty International.
The number of manufacturers that produce this type of weaponry — including water cannons, tear gas canisters and rubber bullets — has exploded in the past 30 years, making this technology increasingly available to law enforcement, the military and private security firms. Little research on the effects of these weapons is available, and they are not regulated by any specific entity.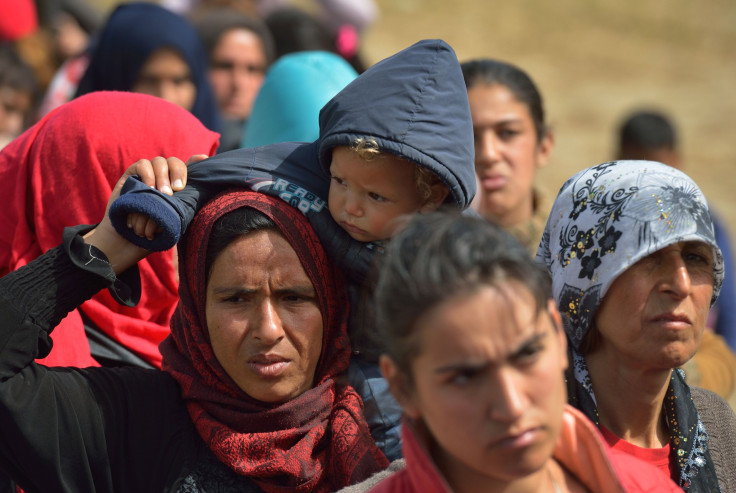 Tear gas is usually less harmful than kinetic impact projectiles like rubber bullets though it cannot be considered altogether safe, either, according to case studies. Given the squalid conditions of the camp at Idomeni, many people were already suffering from respiratory problems such as pneumonia and bronchitis, according to aid organizations on the ground. Tear gas can severely aggravate those conditions, particularly in vulnerable people like children and the elderly.
At least 300 people were treated Sunday for their injuries after the barrage of rubber bullets, tear gas canisters and tear gas grenades fell on the camp. Around 30 were treated for rubber bullet injuries, according to medical nongovernmental organization Doctors Without Borders.
"These are not armed people. There are some weapons that should just not be used on them. I would argue that rubber bullets are just bad in all circumstances," Rohini Haar, one of the doctors who conducted the study for Physicians for Human Rights, told IBT Wednesday. "Children are particularly vulnerable to all of these weapons — they're small; they're skin is thinner, and they can get higher doses of whatever," Haar said. "This is a 'humongously' vulnerable population."
The violence at Idomeni was not the first time critics accused law enforcement of using excessive force against refugees. After the Hungarian government completed a barbed wire fence along the Serbian border in September of last year, refugees began protesting and asking police to open the border. When some people started throwing pieces of wood, stones and plastic bottles, police fired tear gas and water cannons from the other side of the gate. Around 300 refugees and 20 police officers were injured in that instance.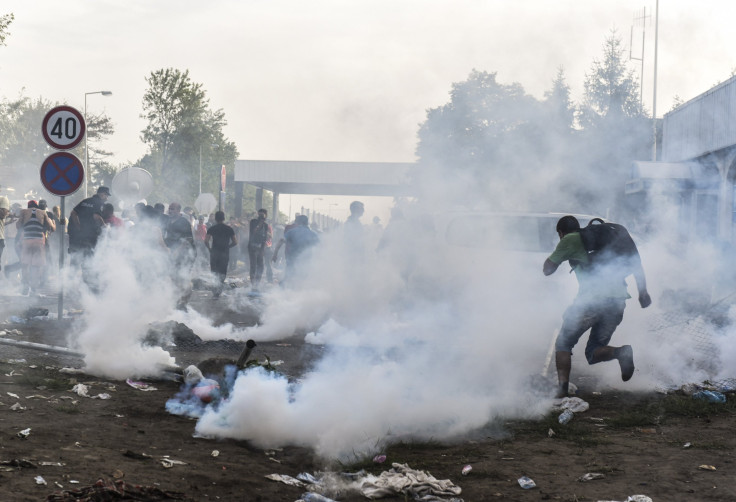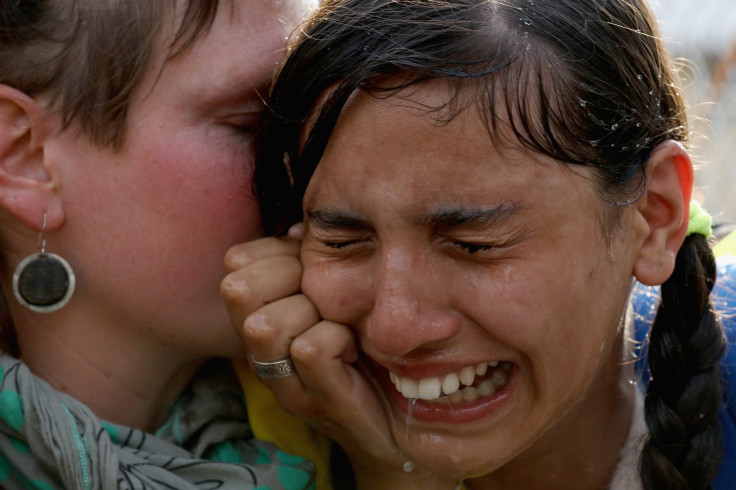 To prevent injuries from overuse and misuse of crowd control weapons, law enforcement needs both better training on the dangers of these so-called nonlethal weapons as well as greater encouragement to use nonviolent techniques, such as negotiation, said Paul Wertheimer, the founder of Crowdsafe, a consulting firm in Los Angeles.
"Time and communication are important," Wertheimer said. "It shouldn't be the first resort but the last resort," he said of riot control weapons.
The best way to prevent these situations of violence from breaking out is to solve the problem and to ensure refugees and economic migrants are not put in increasingly desperate situations, a humanitarian advocate said.
"Most of these people have fled from the conflicts in Syria, Iraq and Afghanistan ... and now these children are seeing the same kind of violence at the border on their way to try to find safety in Europe," Peter Bouckaert, emergencies director for Human Rights Watch, told IBT. He insisted the only sustainable solution would be to resettle as many refugees as possible.
"It really does call into question Europe's commitment to its own values," he said.
© Copyright IBTimes 2023. All rights reserved.