Voters To Romney, Paul, Santorum And Gingrich: We Don't Want Any Of You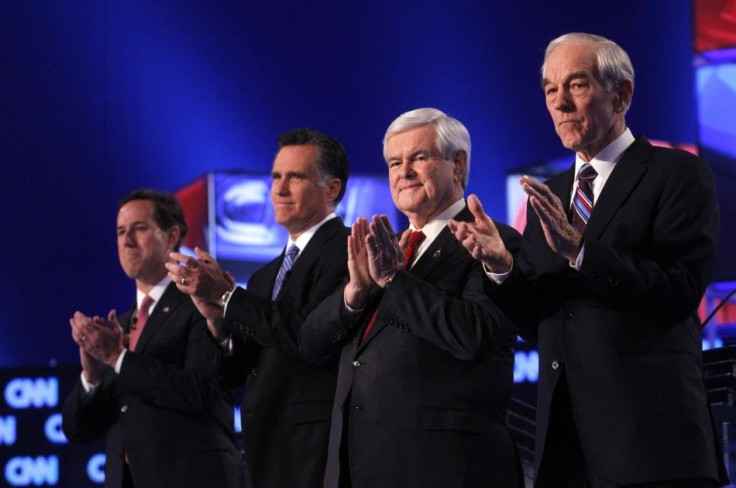 All four remaining Republican primary candidates--former Massachusetts Gov. Mitt Romney, former Pennsylvania Sen. Rick Santorum, Texas Rep. Ron Paul and former House Speaker Next Gingrich--are viewed unfavorably by a substantial portion of the American public going into Super Tuesday, including those in key demographics like independent and undecided voters.
The newest poll, by the Washington Post/ABC News, is another obstacle for the four GOP presidential hopefuls to overcome as they try to prove their electability and appeal, especially with Obama's approval rating on the rise.
Candidates Losing Independent Vote
Independent voters are a critical voting bloc for the 2012 presidential election, the swing votes that will make or break Obama and the chosen nominee in the fall.
Yet none of the four GOP candidates, across the board, was regarded favorably by even 40 percent of those polled.
Texas Rep. Ron Paul did best in this group, netting a 38 percent favorability rating and a 35 percent unfavorability rating.
Mitt Romney and Rick Santorum fare worse. Romney, once again the frontrunner in the Republican primary race, has only a 32 percent favorability rate, a whole 16 points lower than the 48 percent of independents who view him unfavorably. Rick Santorum is viewed unfavorably by 32 percent of independent voters, with a 40 percent unfavorability rating.
But Romney and Santorum's scores are nothing to that of Newt Gingrich. Only 21 percent of independents view the former House Speaker favorably at all.
Paul, Gingrich Drop With GOP
But the effect of this year's protract primary battle isn't limited to independent voters. Among registered Republicans, only Mitt Romney is regarded favorably by around sixty percent of those polled. Still, around thirty percent continue to veiw him unfavorably, with only ten percent largely undecided.
58 percent of GOP voters regard Rick Santorum favorably, with a 23 percent unfavorability rating.
For Gingrich and Paul, however, the news is worse. Gingrich just about breaks even in his own party, 42 percent favorable and 44 percent unfavorable--but Paul is viewed unfavorably by 44 percent of those polled, as opposed to the 38 percent of registered Republicans who view the libertarian candidate favorably.
This poll was conducted from Feb. 29 to March 4, 2012. 1,014 adults were polled, and asked to rate the candidates favorably or unfavorably, from feeling that way strongly to somewhat strongly to having no opinion. The results from the full survey have a margin of sampling error of plus or minus 3.5 percentage points.
Obama Approval Rating On Rise
A similar poll by the Post/NBC has not yet been conducted to judge Democratic incumbent President Obama's favorability rating among independents and registered Democrats.
His general approval rating, however, hasn't been this high for over a year.
Fifty percent of American's approve of the president's job performance, the highest approval rating he's had since the killing of Osama Bin Laden. And in matchups, he leads resurgent frontrunner Mitt Romney by 50 percent to 44 percent.
About 40 percent in that same NBC News/Wall Street Journal poll said the nomination process has given them a less favorable impression of the GOP, while only one in ten now have a more favorable opinion.
These polls come a good eight months before the 2012 presidential election. Coming as they do on Super Tuesday, however, these numbers suggest that the GOP candidates still have a lot to prove before any of them is ready to challenge Obama--and that a consensus candidate cannot come too soon.
© Copyright IBTimes 2023. All rights reserved.