Warriors vs. Rockets 2016 Game 2: TV Channel, Start Time Schedule, Odds, Prediction For Playoff Game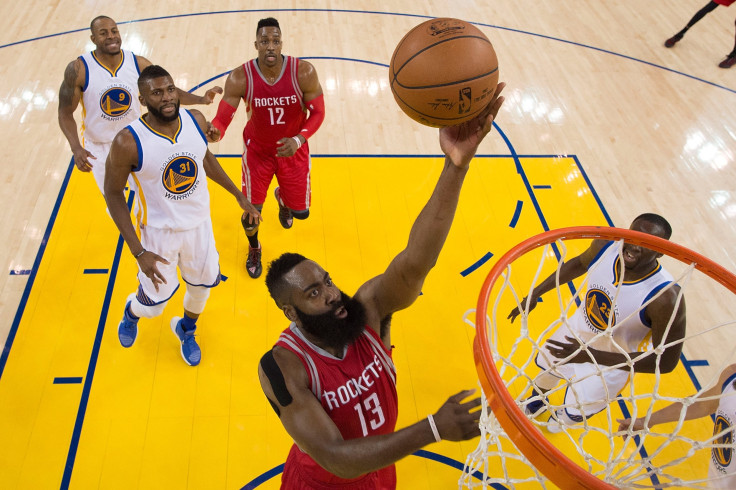 If Game 1 was any indication, the first-round playoff series between the Golden State Warriors and Houston Rockets won't last very long. The NBA's best team won Game 1 handily on Saturday, and they are looking for a repeat performance on Monday night in Game 2 at Oracle Arena.
Saturday's 104-78 victory improved Golden State's record over Houston this season to 4-0. The Warriors are 13.5-point favorites in Game 2, as the Rockets look to turn things around and pull off what could be considered the biggest upset in league history.
Winning a record-setting 73 games in the regular season, Golden State finished 32 games ahead of Houston in the Western Conference standings. The Rockets might have been the biggest disappointment in the West in the 2015-2016 season, barely finishing with a .500 record after they reached the conference finals a year ago. Houston played well down the stretch, winning three straight games by an average of 26.3 points per game.
"Everything that happened [Saturday] was because of us," Rockets guard James Harden said after Game 1. "Obviously they're a good team, but we can improve so much more and that's what we're excited about and we're definitely excited about [Monday's] game."
If the Warriors are at full strength, Houston's best might not be enough to win at Oracle Arena, where visiting teams have only won twice in 41 regular-season games. The Rockets had no answer for Stephen Curry on Saturday, who needed just 13 shot attempts to score 24 points in 20 minutes. But Curry is questionable with an ankle injury for Game 2, giving the Rockets a chance to be competitive on Monday.
Houston hasn't come close to beating Golden State in four tries. They were most competitive on New Year's Eve when they lost 114-110. Curry was sidelined with a sore left lower leg, and the Warriors weren't as close to losing as the final score might indicate. The Warriors owned an 11-point lead with 90 seconds remaining, and the Rockets made a few meaningless three-pointers that resulted in a misleading point differential.
After averaging 29 points per game in the season and scoring at least 24 points in 15 consecutive contests, Harden was held to just 17 points on seven-of-19 shooting against Golden State. Corey Brewer, who replaced Dontas Motiejunas in the starting lineup, scored just three points on eight shot attempts for Houston.
Harden can give Houston a chance to steal Game 2 by having an explosive offensive performance. He did it in last year's playoffs by scoring 45 points in Golden State, and he probably has at least one similar game in him this series. The Warriors, however, have done a good job defending Harden this season, holding the high-volume shooter to just a 37.7 percent field-goal percentage.
"It's not just me (slowing Harden)," Golden State shooting guard Klay Thompson said, via USA Today. "It's me, Andre (Iguodala), Shaun (Livingston), HB (Harrison Barnes), Draymond (Green). As a scorer, we know how good a rhythm he can get when he gets to the line. He's the best in the league at it, so we just have to stay disciplined. Not reach at all. Trust our bigs behind us, and if he hits tough shots on us he hits tough shots."
If Curry plays, this game could be over by the start of the fourth quarter. Even if the point guard is forced to sit out, Golden State should be too much for Houston in Game 2.
TNT will broadcast the game, with coverage beginning at 8 p.m. Eastern Time. The Dallas Mavericks visit the Oklahoma City Thunder in the first game.
Start Time: 10:30 p.m. ET
TV Channel: TNT
Online Stream: WatchTNT
Betting Odds: Golden State-13.5, 218
Prediction: Golden State over Houston, 103-91
© Copyright IBTimes 2023. All rights reserved.