Watch: China's Fighter Jet Performs 'Unnecessarily Aggressive Maneuver' On US Air Force Plane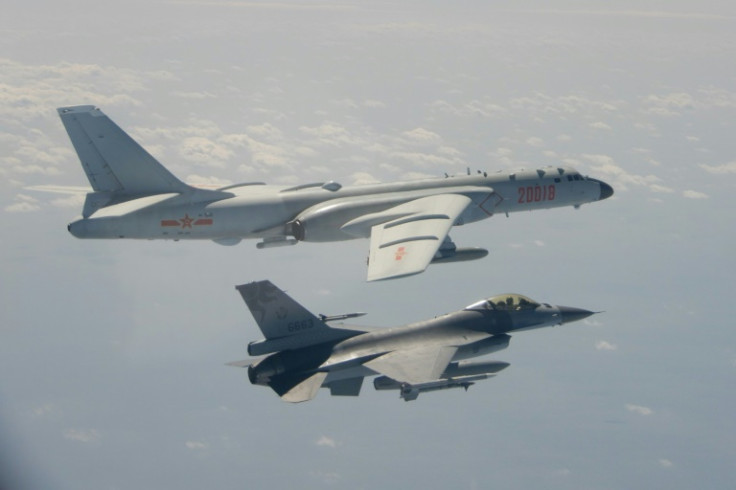 KEY POINTS
The U.S. Indo-Pacific command said a Chinese fighter jet flew directly in front of the nose of the RC-135
The U.S. claims its Air Force aircraft was "conducting safe and routine operations" over South China Sea
The U.S. command urged all countries in the Indo-Pacific region to abide by international law
The U.S. military released Tuesday a video showing a Chinese fighter jet conducting what it called an "unprofessional intercept" of an American spy plane in international airspace over the South China Sea last week.
In a statement Tuesday, the U.S. Indo-Pacific Command (USINDOPACOM) said a Chinese J-16 fighter pilot performed an "unnecessarily aggressive maneuver" after it flew directly in front of the nose of a U.S. Air Force RC-135 aircraft Friday.
The incident forced the RC-135 "to fly through its wake turbulence," the U.S. military said.
USINDOPACOM added that the U.S. plane was "conducting safe and routine operations" over the South China Sea and was not violating international law.
"The United States will continue to fly, sail, and operate – safely and responsibly – wherever international law allows, and the U.S. Indo-Pacific Joint Force will continue to fly in international airspace with due regard for the safety of all vessels and aircraft under international law," its statement said.
The U.S. command urged the countries in the Indo-Pacific region to abide by international law when using international airspace.
The incident came as the U.S., the Philippines and Japan prepare for their first trilateral maritime exercise in the highly-disputed waters this week.
Reuters reported, citing Philippine Coast Guard spokesman Armand Balilo, that the three countries will conduct the military exercises from June 1 to 7 in the waters off Bataan province, which is part of the West Philippine Sea.
Balilo told a press conference Monday that the Philippines will deploy four vessels, while the U.S. and Japan will send one each to the exercises aimed at improving search and rescue collaboration and law enforcement.
The coast guard official added that the maritime exercise will include counter-piracy simulations and possibly an interception scenario involving a vessel carrying weapons of mass destruction.
"This is a usual routine activity among coast guard agencies," Balilo said.
"There is nothing wrong with holding exercises with your counterparts," he added.
China claims it has sovereignty over almost the entirety of the South China Sea by using a "nine-dash line" on maps that cuts into the exclusive economic zones of the Philippines, Malaysia, Brunei and Indonesia. But an international tribunal in The Hague in 2016 ruled that China's claims have no legal basis.
However, the ruling didn't stop China from continuing its aggression across the sea.
Earlier this month, South China Sea Wave, a Chinese social media account specializing in military reports and research into the area, reported that China deployed several vessels, including a research vessel, two coast guard ships, and at least seven other fishing boats, near Vanguard Bank as Vietnam moved to expand its oil drilling program.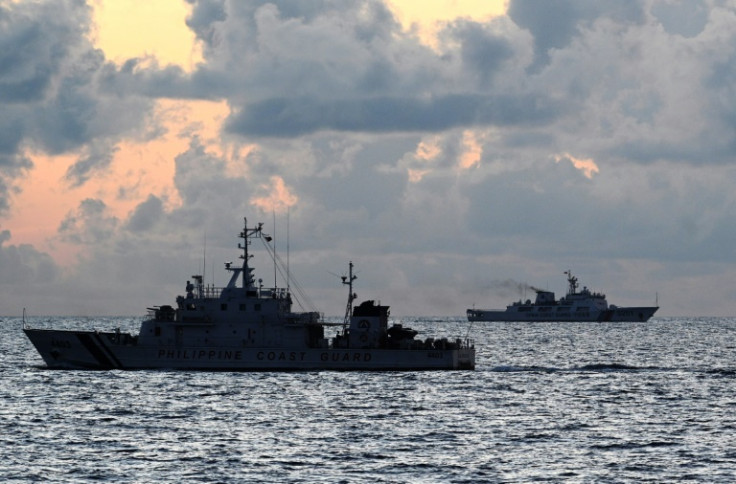 © Copyright IBTimes 2023. All rights reserved.