Watch: Mysterious 30-Foot 'Sea Serpent' Spotted Underwater By Diver
A diver in New Zealand was baffled after he came face to face with a bizarre-looking underwater "sea serpent" measuring nearly 30-foot-long recently. Ben Laurie, 21, said he encountered the creature while diving near Cape Brett on North Island.
Laurie caught the condom-shaped creature floating underwater surrounded by much smaller marine animals. He was surprised as he had seen nothing before like the mysterious creature.
"We were diving there for kingfish and we had plugged a couple, and then we were coming up from one of the dives when my friend saw this thing," he said, according to the Daily Mail. "It did look almost like a big condom. It was 30 feet long and more than a foot and a half, and it was just flowing with the tide."
"I didn't know what it was at the time, so it was quite a confusing thing," he said. "We get these little like plankton build-ups – they're like small stringy things but they're only like eight inches long – so I thought it was just a large one of them."
He went on to add: "But one of the guys touched it and said it wasn't soft at all, it was more like a cardboard sort of texture."
While the identity of the creature remains unknown, it is believed to be a pyrosome, a floating colony made up of thousands of sea squirts which feeds by filtering microscopic plant cells out of the sea.
"Apparently they only come from depths of 2,000 metres, so it's quite rare for them to be up in the shallows like that," the diver said. "It must have been sick or something. Once it gets a bit too high, because it's got more of a softer texture, the fish seem to eat it, so that's why it stays deep... A scientist said it's pretty much a once-in-a-lifetime rare thing to see."
This is not the first time that an alien-like sea creature has been spotted. In January, a mysterious "blob-like alien" sea creature washed up on the shores of Durras Beach in Australia's New South Wales. The creature, which has a yellow hue and three segments, drew comparisons to several things including a jellyfish, part of a jellyfish and part of a sea animal. Its origin remained unknown.
In another incident earlier January, a man discovered an alien-like creature living in his aquarium after he filled it with plants he took from Lake Waikaremoana, North Island in New Zealand. Photos of it, swimming inside one of the green plants were circulated online. Though the man was not sure about what the creature was, some suggested it to be caddisfly.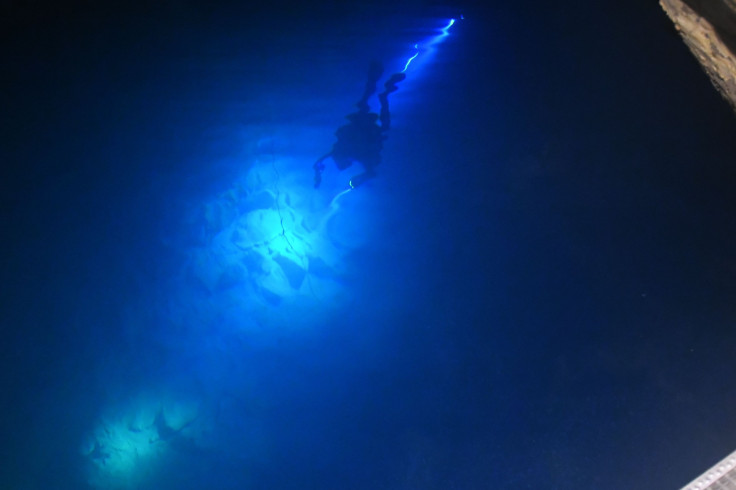 © Copyright IBTimes 2023. All rights reserved.