Watch: Philippines Earthquake Spills High-Rise Swimming Pool Water Onto Streets Below
A horrific moment was captured in a video showing an aftershock from a major earthquake in the Philippines shaking off water from a high-rise rooftop swimming pool. The incident that took place Monday killed at least 11 people and left 24 people missing in the Southeast Asian country.
The magnitude 6.1 tremor hit the nation near the town of Bodega on the island of Luzon, about 40 miles northwest of capital Manila, where footage showed buildings swaying. In one video, water was thrown from a rooftop swimming pool down the side of the high-rise building onto the streets below. At least 52 aftershocks have been recorded since Monday, according to CNN.
"Nightmares, for days," one social media user commented on the video shared on YouTube. Another said: "I'm glad I wasn't in that pool".
Apart from lives lost, extensive damages were also reported following the quake. Clark International Airport, located about an hour's drive north of the capital, suffered major damage. Seven people suffered minor injuries when part of the ceiling at the check-in lobby of a passenger terminal collapsed, the Philippine News Agency reported citing Jaime Melo, the airport authority president. More than 100 flights were canceled as of Monday and the airport was temporarily closed.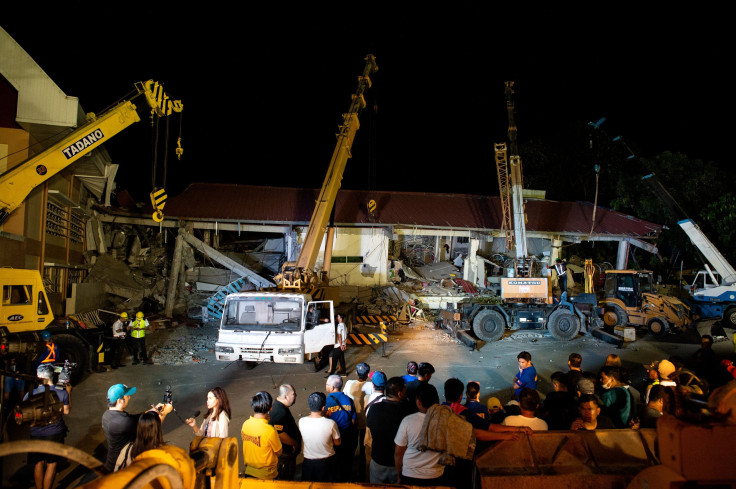 Rescuers said late Monday they found bodies in the rubble of a supermarket that crashed down in the powerful earthquake. Mayor Condralito dela Cruz confirmed four bodies being found.
Cranes, crowbars and sniffer dogs were used by rescuers to find bodies of victims or any survivors in the rubble. Early Tuesday, rescuers pulled out a man alive, sparking cheers and hopes that some of the missing people may still be alive.
Officials said damages were caused at a former U.S. Air Force base and an old Roman Catholic church in Pampanga, while some highways and bridges were also affected.
The Philippines is located on the Pacific Ring of Fire, where about 90 percent of the world's earthquakes strike. The last deadly quake was in October 2013 when a 7.1-magnitude tremor hit the region killing more than 220 people. In July 1990, more than 2,400 people were killed on the northern island of Luzon in a magnitude-7.8 quake.
© Copyright IBTimes 2023. All rights reserved.
FOLLOW MORE IBT NEWS ON THE BELOW CHANNELS