Western Ghana At A Crossroads: Tourists, Corrupt Cops, And Billions Worth Of Oil
TAKORADI, Ghana -- Thomas Edward, a taxi driver in western Ghana, remembers the day of his good fortune. In the summer of 2010, a tired American student arrived in the popular beach town of Busua, only to discover all lodging was booked. "I'm a Rastafarian. I believe everyone should have a good life. So I invited him to come stay with my family," Edward explains with a smile.
Two years later, that same backpacker returned to Busua beach, driving a used car. Explaining he was now a successful businessman, he gave the car to Edward at the end of his stay. With the car, Edward has become a taxi driver, shuttling fares between Busua, Takoradi and other locations in western Ghana. In honor of the cab's origins, a small American flag hangs from the rearview mirror.
Edward's windfall parallels and is bolstered by a much larger one that his country received in 2007, when oil deposits were discovered offshore. Commercial production began in December 2012 and has helped boost Ghana's economy, with GDP growth in real terms of 7.9 percent in 2012. This year, production at the offshore Jubilee Field is expected to reach 110,000 barrels a day. The field is located 60 kilometers (37 miles) off Ghana's western coast, close enough that in the evenings the lights of service vessels and tankers can be seen flickering offshore from Busua beach.
Ghana first discovered oil in 1978, but production initially was modest. As recently as 2009, it stood at just 7,000 barrels per day, and much of that was lost to leakage. In the 1980s, African oilmen joked that Ghana should be named the "Seep Coast" due to tar balls that washed up onshore, but hinted that there were greater hydrocarbon reserves offshore. In 1995, Ghanaian strongman and longtime President Jerry Rawlings (who was term-limited out of office in 2000) offered offshore oil exploration blocks to international companies. Since Rawlings' departure, Ghana has bloomed into one of Africa's stronger democracies.
The concern is that development of the oil industry could prove disruptive to the region's traditional economy -- for local farmers, small-scale fishermen and the growing tourist sector, which employs people like Thomas Edward. Traditionally, the primary tourism hub of the region has been Busua, a town of about 5,000, which has developed into an important tourism center after agriculture was devastated by blight in the 1990s.
Today Busua is home to a number of small hotels catering to Ghanaian weekenders, foreign backpackers and international surfers. The town got running water and electricity only in the last 15 years, and remains vulnerable to frequent outages. The Black Star Surfshop, which claims to be the first of its kind in Ghana, if not all of West Africa, opened in 2006. There, surfboards can be had for US $10 per hour for those looking to surf along the 2 km-long (1.3 mile-) white-sand beach shadowed by baobab trees. One edge of the beach is taken by artisanal fishing boats. Local fishermen note that tar balls are becoming increasingly common on the beach, and can be a problem if they end up in one of the fishing nets.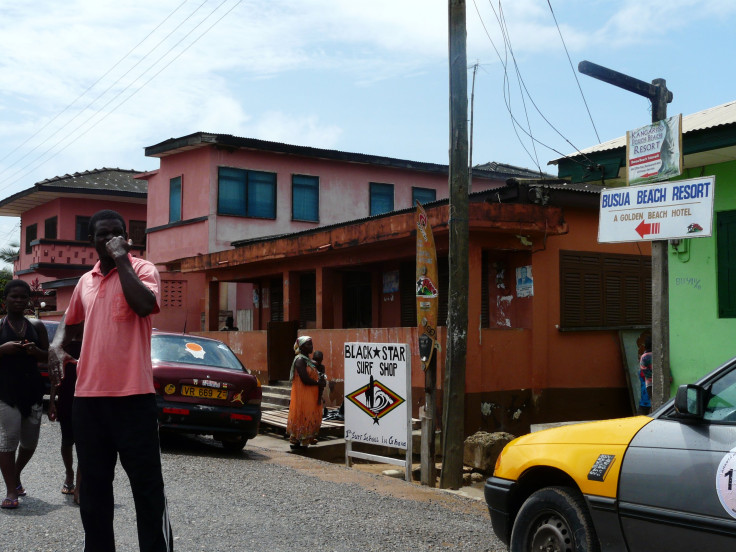 More worrying are beached whales found on shores across Ghana since production began. By one count, 16 whales have washed ashore in the country since exploratory drilling began in 2009, including five in September.
That doesn't seem to concern oil investors. The nearby city of Takoradi "is becoming the Houston of Ghana," observes a Western businessman in Ghana who deals in oil and would only speak anonymously. "Ghana is a safe place for expats," he continues, and "West Ghana has the potential to become a regional oil hub if they get the onshore and offshore infrastructure in place so the oil industry can succeed."
Edward, who drives between Busua and Takoradi, knows the failings of infrastructure in the region firsthand. The area receives more than 150 millimeters of rain per year, which frequently turns the road into a swamp. Once paved, the road today is filled with potholes. After downpours, groups of entrepreneurial youths from local villages pack the holes with loose red dirt and collect informal tolls from passing cars. As we drive, Edward gives the group closest to his native Busua the Ghanaian equivalent of $2 for their efforts. Later, he races past similar groups. In June the delivery of boat fuel to fishermen was suspended for safety reasons due to road conditions.
As he gets closer to Takoradi, the Takoradi Oil Village comes into view, and from there on the road is in good repair. Slated to become a high-rent planned community specifically tailored to the needs of expatriate oil workers, the area is clearly still half-built. The massive gate is complete, however, and seems more appropriate for an elite community in California's Orange County than rural Ghana. When finished, the Oil Village will feature dozens of lavish townhouses with modern furnishings, glass-doored showers and closed-circuit TVs for monitoring. The compound will also feature a private school and sporting club. Beyond the gate and a few buildings, much of the site remains bare red earth, where the tropical undergrowth has been cleared away. Across the road, a farmer wearing wraparound sunglasses sits propped up against a yellow jerrycan, a machete at his side. Behind him is a large area recently cleared of elephant grass.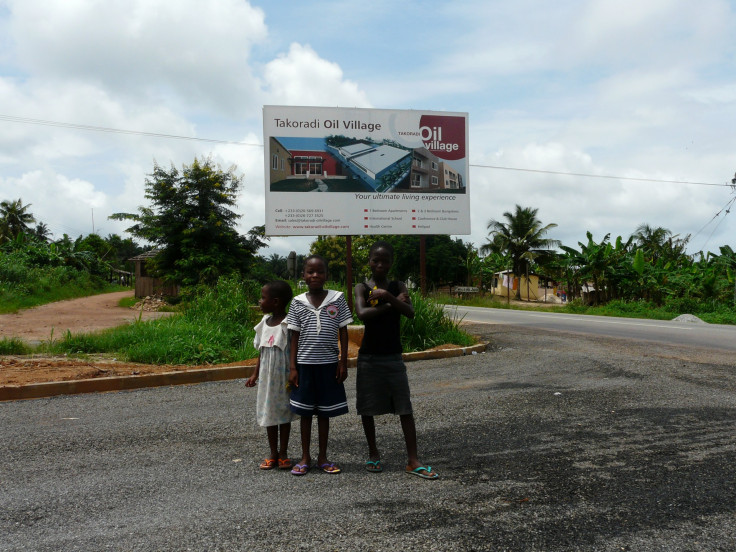 Other investments are following in the wake of oil. The Protea Hotel Group of South Africa, the continent's largest hotel chain, plans to open a 36-room hotel in Takoradi this year; a nine-story Best Western Plus is also set to open. Other hotels are expected, not all aimed squarely at oilmen. This year, plans for the 150-room Princess Town Hotel were also announced. When completed, it will be Ghana's only five-star hotel located outside of Accra, with a conference center and the first 18-hole golf course in the region. Estimates suggest the hotel will produce 1,000 direct and indirect jobs. Airlines including Qatar Airways may expand soon into Ghana, and the growing Nigerian middle class often chooses the beaches of Ghana, which are -- for now -- seen as less polluted than those in Nigeria.
Further down the road, Edward stops his cab to pick up Jonathan Nkrumah, a 23-year-old unemployed resident of a small village near Takoradi. Nkrumah's cousin recently graduated from Takoradi Polytechnic and found a job with a Chinese company in the oil business. "If the oil continues to flow, we in the Western region should receive a larger share of it because they are using our territory to find the oil," Nkrumah says. But he voices another local concern when he says, "Do we need new jobs and roads? OK, sure, but we also need to have beaches and fish for the next generation." Despite his reservations, Nkrumah hopes his cousin can help him find a job at some point.
Edward is more sympathetic to the oil industry: "They pay good money. I know a farmer who was paid for a 50-year lease, after which the land will return to him."
Samuel Johnfiah, a member of Ghana's parliament for the opposition New Patriotic Party, has long advocated for more oil revenue to be spent locally as the people of the coastal regions take greater risks. Johnfiah has represented the Ahanta West district, which includes Busua, since before the discovery of oil. A massive oil disaster, he says, could threaten the local economy, in particular fishing, and he has pressed for more infrastructure spending in western Ghana.
Ghana expects to receive $20 billion in investments related to its oil sector within the next five years, but tourism projects tend to be seen as a more ready solution to the region's unemployment problems, as they require less formal skills. Another worry about petroleum development is that Ghanaian governance lacks the transparency to deal with such a massive windfall. Examples of corruption are easy to find in Ghana.
Back on the Busua-Takoradi highway, Edward slows down as he reaches a police checkpoint. Once stopped, he greets an officer he recognizes, in English. But the officer in aviator sunglasses responds in the local dialect of Twi, with a question. "But you know me!" Edward replies in English, then gets out of the car and hands the officer his ID.
"Do you think I know him?" says the policeman, leaning into the open window to check on the passengers. Edward laughs nervously, returns to the vehicle, and takes out some money. After he pays off the police, we drive on, with Edward's small plastic American flag flapping loudly. Soon we reach the outskirts of Takoradi, now delineated by a sign advertising Schlumberger Limited (NYSE:SLB), one of the world's largest oilfield service companies.
© Copyright IBTimes 2023. All rights reserved.