Who Made It Into The College Football Hall Of Fame? Vince Young, Joe Thomas Headline Inductees
As the college football world gets ready to say goodbye to the 2018 season with the national championship game on Monday night, the National Football Foundation announced 2019's inductees into the College Football Hall of Fame. In total, 13 players and two head coaches will be enshrined by the foundation.
The list is headlined by former Texas Longhorns quarterback Vince Young. After he became the Longhorns' full-time starter in 2004, Young compiled a 24-1 record, highlighted by his iconic performance in the 2006 Rose Bowl. Texas beat the USC Trojans 41-38 in a game filled with future NFL players.
Young finished with 467 total yards of offense and three rushing touchdowns, including the game-winner on 4th & 5 with less than a minute in the game.
<iframe width="560" height="315" src="https://www.youtube.com/embed/GeiXFtkGp2s" frameborder="0" allow="accelerometer; autoplay; encrypted-media; gyroscope; picture-in-picture" allowfullscreen></iframe>
Former Wisconsin Badgers offensive lineman Joe Thomas is also a big name on the list. Thomas had a distinguished career in Madison before recording 10,363 consecutive snaps in the NFL with the Cleveland Browns, the longest streak in NFL history.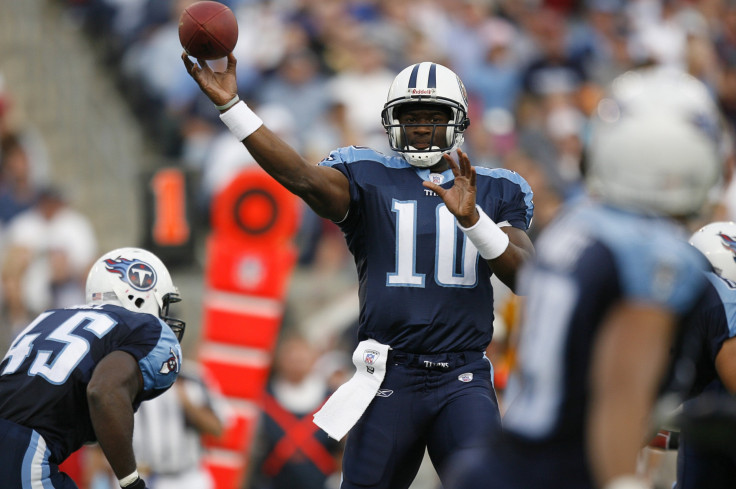 Full list of College Football Hall of Fame 2019 Inductees:
Quarterback Vince Young, Texas Longhorns
Quarterback Jake Plummer, Arizona State Sun Devils
Offensive lineman Joe Thomas, Wisconsin Badgers
Linebacker Patrick Willis, Ole Miss Rebels
Linebacker London Fletcher, John Carroll Blue Streaks
Defensive lineman Jacob Green, Texas A&M Aggies
Wide receiver Torry Holt, North Carolina State Wolfpack
Wide receiver Raghib Ismail, Notre Dame Fighting Irish
Defensive back Rickey Dixon, Oklahoma Sooners
Defensive back Troy Polamalu, USC Trojans
Defensive back Terrell Buckley, Florida State Seminoles
Running back Lorenzo White, Michigan State Spartans
Running back Darren McFadden, Arkansas Razorbacks
Head coach Dennis Erickson, Miami Hurricanes, Oregon State Beavers
Head coach Joe Taylor, Florida A&M Rattlers, Hampton Pirates, Virginia Union Panthers, Howard Bison
© Copyright IBTimes 2023. All rights reserved.