Will China Go To War With US? South China Sea Patrol By American Aircraft Carrier Strike Group Begins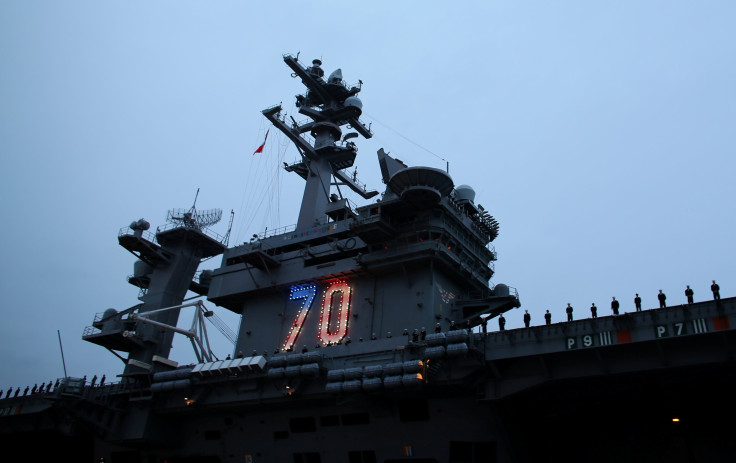 Tensions with China may be racheting up with the deployment of a U.S. aircraft carrier strike group in the South China Sea despite warnings from China's Foreign Ministry against challenging Beijing's sovereignty in the region.
Rear Adm. James Kilby said the carrier USS Carl Vinson began operations in the South China Sea on Saturday, a day after China wrapped up its own exercises, Reuters reported.
After weeks of training in the Pacific, "we are looking forward to demonstrating those capabilities while building upon existing strong relationships with our allies, partners and friends in the Indo-Asia-Pacific region," Kilby said.
The deployment follows training operations in the area by the littoral combat ship USS Coronado last week, the Navy said in a statement, and "freedom of navigation" exercises conducted in October by the USS Decatur, a guided-missile destroyer. China called the latter a serious breach of law, as well as a provocation.
The USS John C. Stennis conducted exercises in the area nearly a year ago.
The Vinson was last in the South China Sea in 2015 when it conducted joint exercises with Malaysian forces.
"China respects and upholds the freedom of navigation and overflight in the South China Sea, which countries enjoy under international law, but firmly opposes any country's attempt to undermine China's sovereignty and security in the name of the freedom of navigation and overflight," Chinese Foreign Ministry spokesman Geng Shuang warned.
China has laid claim to nearly all of the resource-rich area despite competing claims from Brunei, Malaysia, the Philippines, Taiwan and Vietnam. The waters contain sea lanes, rich fishing grounds, and oil and gas deposits.
China has claimed almost all of the South China Sea, including islands as far as 800 miles from the mainland, and has been building islands, some of which contain military installations. The Asia Maritime Transparency Initiative released satellite imagery in December showing weapons systems on all seven of the artificial islands.
During his confirmation hearing, Secretary of State Rex Tillerson said China should be prevented from accessing the artificial islands.
The Vinson, which carries a flight group of more than 60 aircraft, is accompanied by the guided-missile destroyer USS Wayne E. Meyer.
Tensions between the U.S. and China have been building since U.S. President Donald Trump accepted a congratulatory phone call from Taiwanese President Tsai Ing-wen, the first U.S. president or president-elect to directly contact Taiwan in four decades. China considers Taiwan a rogue province.
© Copyright IBTimes 2022. All rights reserved.
FOLLOW MORE IBT NEWS ON THE BELOW CHANNELS