Will Zion Williamson Play For Duke Again? Injury Sparks Debate About Returning Before 2019 NBA Draft
Wednesday night's highly anticipated college basketball game between No.1 Duke and No8. North Carolina lost much of its luster just 36 seconds in when Zion Williamson left the contest for good with an injury. The freshman phenom suffered a "mild knee sprain," according to Blue Devils head coach Mike Krzyzewski, as he slipped and his left foot busted through his sneaker.
It isn't yet known exactly how much time Williamson will miss, but the news was ultimately good. The 18-year-old appears to have avoided any serious injury that might've still ailed him closer to the 2019 NBA Draft, where he is almost certain to be the No.1 overall pick.
There's a chance Williamson will be healthy enough to return for March Madness. The first round of the NCAA Tournament is scheduled to begin in exactly one month on March 21, and Williamson's presence would make Duke the clear favorite to win the national championship.
North Carolina soundly defeated Duke 88-72 after the Blue Devils' best player became unavailable.
Should Williamson play another college basketball game even if he is cleared to return? That was the debate that took over the internet in the aftermath of his jarring injury. Even current NBA players chimed in on social media.
The question of whether or not Williamson should sit out the rest of the year and wait to get paid in the NBA was already a topic of discussion pre-injury. The future NBA star had dismissed that notion earlier this season, though that was before he narrowly avoided getting seriously hurt.
After being selected first overall in last year's NBA Draft, Deandre Ayton signed a contract that guarantees him $17.7 million over two years. He's got a team option for $10 million in his third NBA season and another option for $12.6 million in the fourth year. As the top pick in 2019, Williamson would sign a deal worth slightly more than what Ayton received.
Williamson's first shoe contract is where the real money will come. He's certainly the most-hyped prospect since Anthony Davis entered the league in 2012. It can be argued that no player since LeBron James has received this type of coverage before heading to the NBA.
James signed a seven-year, $90 million contract with Nike before his rookie season in 2003.
If Williamson suffers an injury that affects his career going forward, he could cost himself tens of millions of guaranteed dollars. The odds of that happening over the remainder of his short college basketball career are slim, but so were the chances of his sneaker exploding during a game.
At 6'7 and 285 pounds, Williamson has exhibited freakish athleticism. Even without a reliable jump shot, he projects to be an elite player in the NBA.
Through 26 games, Williamson has had an incredible season. He's undoubtedly the best player in the country with averages of 21.6 points, 8.8 rebounds, 2.2 steals and 1.8 blocks per game for the nation's top team. Williamson's put up those numbers with historic efficiency, averaging just over 12 field goal attempts per game while making more than 68 percent of his shots.
Williamson has the ability to carry Duke to a national title. After Wednesday's game, he might have to decide if trying to do so is worth the risk.
​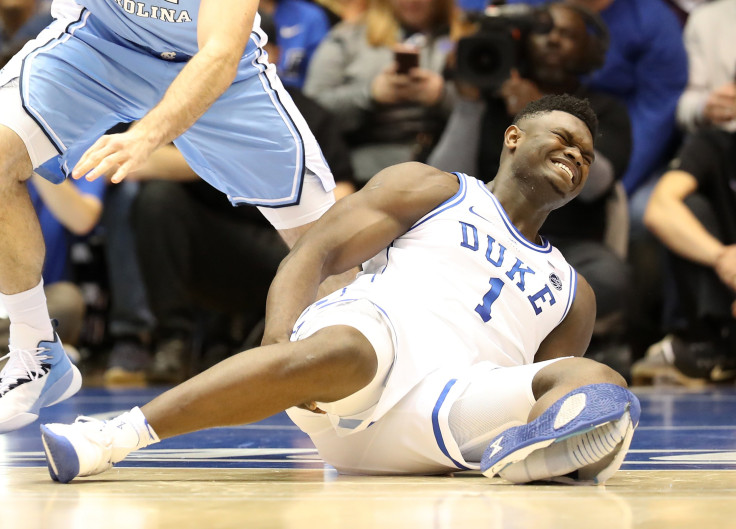 © Copyright IBTimes 2023. All rights reserved.