World Economic Forum: Saudi Arabia Is 'Opening The Door' To Foreign Investment As Kingdom Aims To Break Oil Addiction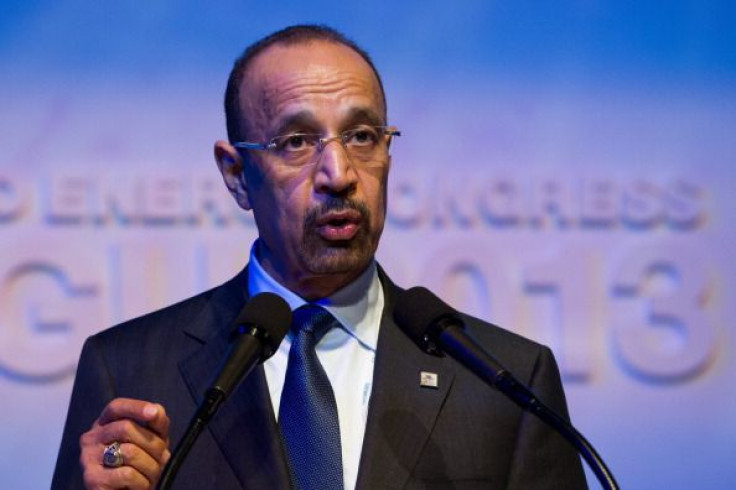 Saudi Arabia has a business pitch for the investors gathering at the World Economic Forum this week. As the country looks to shake its dependence on petroleum, its leaders are welcoming a rush of foreign and private capital to build new factories, boost the banking and healthcare industries and create millions of jobs for unemployed workers.
"We're literally opening the door wide open for foreign direct investment," Khalid al-Falih, who chairs the board of state-owned oil giant Saudi Aramco, said Thursday during a panel discussion in Davos, Switzerland. The country is seeking investors "who are willing to come to Saudi Arabia and take advantage of the next phase of development, which is going to be significant," added al-Falih, who is also the country's health minister.
The Saudi government is facing mounting pressure to diversify the oil-soaked economy. With the price of crude down 70 percent in the last 18 months, dipping to nearly $27 a barrel this week, Saudi Arabia's revenues from oil exports are rapidly diminishing. The Saudi government said it expected to post a budget deficit of $87 billion this year — about 13.3 percent of its gross domestic product — on top of last year's deficit of $98 billion.
Saudi Arabia Overview | FindTheData
Saudi leaders have tried for decades to shift the economy away from oil, mostly without success. Past attempts to develop other sectors, such as mining, tourism, petrochemicals and financial services, often floundered in the face of steady and substantial oil revenues, which account for about 80 percent of Saudi Arabia's total budget revenue.
Prince Mohammed bin Salman, the deputy crown prince and chairman of the country's Council of Economic and Development Affairs, has vowed to introduce sweeping reforms this year, including plans to privatize some state-owned sectors and significantly cut public spending in healthcare, education and parts of the military.
Saudi Aramco, the world's biggest energy company, is also considering selling a small percentage of its shares in the capital markets or publicly listing a bundle of its subsidiaries to boost revenues, the company confirmed earlier this month.
Al-Falih, who was Saudi Aramco's president and CEO until April 2015, praised the prince's strategy during the Davos panel Thursday. "We're accelerating our reform," he said. "His royal highness is ambitious in terms of where he wants Saudi Arabia to be, sooner rather than later."
Crude Oil Production in Saudi Arabia | FindTheData
The oil executive said part of Saudi Arabia's plan to bolster private-sector growth could include training Saudi nationals to take over positions now held by foreign workers. Some 10 million non-Saudi workers account for more than half the country's labor force, with many hired on temporary contracts with minimal pay. Al-Falih said Saudi Arabia could also reduce its imports and expand domestic production in areas like pharmaceuticals, medical equipment and healthcare services.
Saudi Arabia took in around $300 billion in foreign direct investment during the 10 years from 2003 to 2013, the McKinsey Global Institute said in a December report.
But foreign investment flows have declined in recent years, in part because of rising social and political tensions in the region and because of the country's restrictive legal framework and conservative cultural environment — which includes requiring companies to separate male and female employees in the workplace. When it comes to the ease of doing business, the World Bank last year ranked Saudi Arabia 89th out of 189 countries.
Foreign direct investment in Saudi Arabia totaled about $8 billion in 2014, down 34.4 percent from 2012 investments of $12.2 billion, according to the United Nations' 2015 World Investment Report.
Kirill Dmitriev, a Russian businessman and CEO of the Russian Direct Investment Fund, said his country was eager to capitalize on Saudi Arabia's diversification strategy. "We as Russia would like to invest in some of the projects," he said during the Davos panel. He listed Saudi's tourism sector as a potential investment area, particularly for expanding infrastructure around the Islamic holy city Mecca.
"What we see is a really interesting test of ... diversification away from oil," Dmitriev said. "It's moving very quickly."
Even so, al-Falih made it clear that Saudi Arabia has no intentions of ceding its role as the world's largest oil exporter. The country controls more than a tenth of the global oil market and holds about 20 percent of global oil reserves.
Brent Crude Oil Spot Price | FindTheData
Saudi Arabia is under pressure from fellow OPEC members and other oil producers to dial back its daily oil output, a move that could help ease the global supply glut and shore up oil prices.
Venezuela and Ecuador have called for an emergency gathering ahead of a scheduled June meeting to review the cartel's production policy. Like Saudi Arabia, those countries have seen oil export revenues evaporate amid plunging prices, forcing governments to curb public spending and delay infrastructure projects. Yet only Saudi Arabia has $600 billion-plus in foreign reserves to help it weather the oil market downturn.
"We will not accept to withdraw our production to make space for others," al-Falih said.
© Copyright IBTimes 2023. All rights reserved.