WWE Can't Land UFC's Ronda Rousey, So It May Try For Jessamyn Duke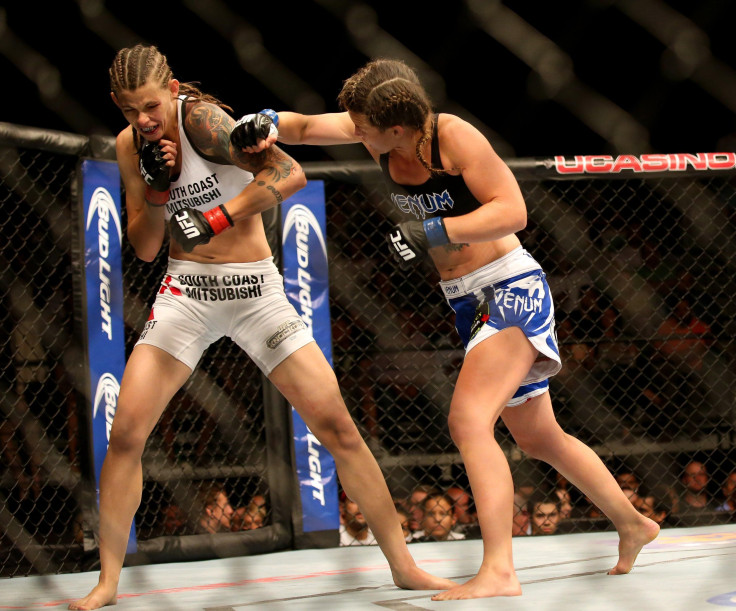 World Wrestling Entertainment cannot land Ronda Rousey -- the brightest star in the Ultimate Fighting Championship mixed martial arts galaxy -- so WWE instead will try to lure one of her friends. WWE boss Vince McMahon and his creative team are reportedly serious about making UFC's Jessamyn Duke a contender in WWE's next Divas search.
After winning a monthlong tug of war for Brock Lesnar's services, WWE was keen on recruiting Rousey next -- and did so with a limited in-ring appearance at Wrestlemania 31. The former Olympian and accomplished judoka was eager for more WWE commitments, but was rebuffed when UFC head honcho Dana White said Rousey's participation in WWE was a "one-time thing."
So WWE is now focused on Duke, one of Rousey's "Four Horsewomen." WWE Chief Operating Officer Triple H is pushing for putting a brighter spotlight on female fighters after seeing firsthand how Rousey has captivated the fan bases of both UFC and WWE. In fact, WWE is closely monitoring Duke's next UFC match, to determine whether it should proceed with plans to recruit the Kentucky native.
"Apparently, if Duke loses her next UFC bout against Elizabeth Phillips, who she is scheduled to fight on July 25 in Chicago ... a prospect whom she already defeated via guillotine choke in an amateur bout in 2012, there are already high-profile executives within WWE that are pushing for her to be signed by the company," MMA News reported.
But the move to pry away Duke is not the only strategy WWE has for lifting up its ensemble of women wrestlers. In fact, its farm league, NXT, has a so-called "Four Horsewomen" of its own -- composed of Becky Lynch, Charlotte, Bayley, and Sasha Banks. The talented ladies hope to follow in the footsteps of Dean Ambrose and Seth Rollins, who have successfully crossed over to WWE.
© Copyright IBTimes 2023. All rights reserved.