WWE: Stone Cold Reveals Why He Once Didn't Turn Up For Brock Lesnar Fight In Monday Night RAW
KEY POINTS
Stone Cold did not turn up for a fight vs Brock Lesnar
The incident occurred in 2002
WWE star Stone Cold retired in 2003 and was inducted in WWE Hall of Fame in 2009
Stone Cold Steve Austin has revealed why he once did not turn up for a Monday Night RAW show to fight against Brock Lesnar.
The incident occurred in 2002 and Stone Cold has recently admitted that he still regrets walking out by not appearing on the show, where he was supposed to lose.
The retired World Wrestling Entertainment (WWE) star appeared on the Pardon My Take podcast and spoke about the incident. He unfolded the real reason as he said that he would have lost a match to Lesnar any day of the week but the lack of buildup was the reason for not turning up for the fight. He also added that it was right after the night he fought Ric Flair in a Cage match.
"They wanted me to fly down to Atlanta for Monday Night RAW and put over Brock Lesnar. The night before, I was working in Columbus, Georgia working with Ric Flair in a cage, so I was like a kid in a candy store working with the GOAT, so of course, I didn't show up."
"Because it wasn't time for me to do the favors yet for Brock in an unadvertised match in a tournament-style TV match whereas, hey man, I love Brock Lesnar, I'd lose to him any day of the week, but build it up so we can all make money off of it and it's going to mean something," Stone Cold added in his interview with Pardon My Take.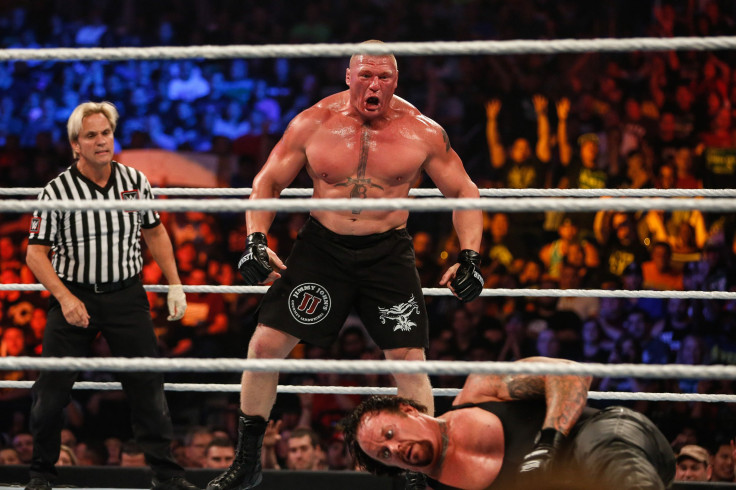 Moreover, the match did not take place even after Stone Cold returned and it looks like the WWE Universe will never get to witness that fight.
While Steve Cold retired in 2003 and was inducted in the WWE Hall of Fame in 2009, Lesnar is still very much a vital part of the WWE company. He is guaranteed to be involved in a marquee match at every WrestleMania event.
However, the WWE company has been struggling to finalize an opponent for Lesnar for his next WrestleMania 36 match.
Lesnar reportedly could face one of the following in the much-awaited championship fight on the biggest stage of WWE - Aleister Black, Ricochet, Cain Velasquez and Tyson Fury and Randy Orton.
Keeping in mind the storyline, a match between Lesnar and Orton could do wonders for the WWE company in terms of revenue as the fight has a history too. In 2016, Lesnar literally cut up Orton's skull in the middle of a match [SummerSlam] and hence a new fight between the two has the potential to turn into a huge success among fans.
© Copyright IBTimes 2023. All rights reserved.