WWII Vet's Deflategate Letter Backs Tom Brady, Critiques Roger Goodell, Calls Case Waste Of Time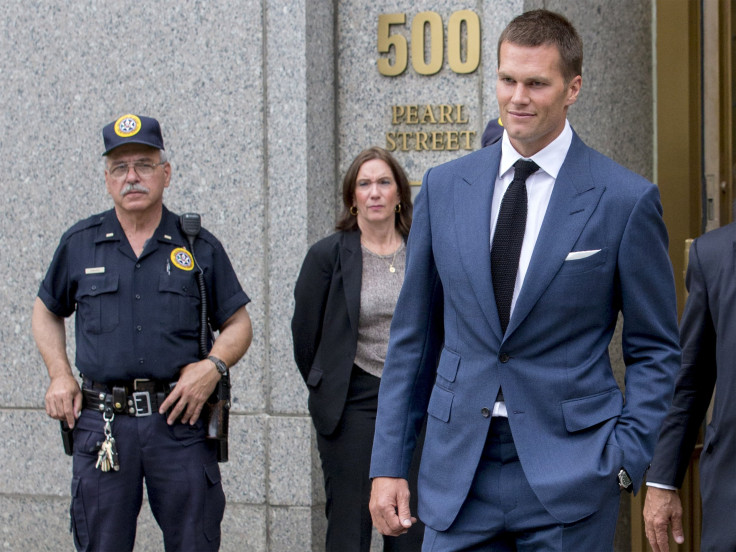 At least one member of the Greatest Generation is on team #FreeBrady. Warren B. Lessing, who made it a point to say he is a 93-year-old World War II veteran, wrote a letter to the judges of the U.S. Court of Appeals for the 2nd Circuit saying the NFL's Deflategate circus is a waste of time before he threw his support behind New England Patriots quarterback Tom Brady.
For those who aren't up-to-speed on the seemingly endless Deflategate saga, it centers on Brady, who faces a potential four-game suspension in the upcoming NFL season for an alleged role in a scheme to slightly deflate footballs in the 2014-15 AFC Championship Game to gain a competitive edge. The suspension — announced prior to the 2015-16 season — was first levied by NFL Commissioner Roger Goodell, initially upheld by Goodell (who also oversees discipline arbitration in the league), overturned by a judge before being upheld again by a judge in federal appeals court in April.
Lessing makes clear in his letter, which appears to have been written on a typewriter, that he is not a fan of Goodell and that he thinks the court system could find a better use of its time. Here's the text of the letter, which was alerted to the attention of International Business Times by gaming and sports law attorney Daniel Wallach:
Gentlemen:

I am a 93 year old WW II veteran and I have always found it prudent to invoke my disclaimer, in matters such as this, to voice my personal opinion as guaranteed by the U.S. Supreme Court under Freedom of Speech.

While I did not expect a reply, I wrote to Roger Goodell regarding the above, as I am sure thousands of football fans did the same, stating that I thought it was a stupid, asinine ruling. In the meantime you overrule the judge who rightfully, and sensibly, tried to put an end to it, so I am telling you the same thing.

Correct me if I am wrong, but isn't this still the United States where a person is innocent until proven guilty? Tom Brady was never proven guilty. Don't you have anything more important to do?

Very truly yours,

Warren B. Lessing
WBZ-TV, a Boston CBS affiliate station, got in touch with Lessing, who reiterated that he thought Brady was being targeted. He was surprised that his letter had been added to the docket of the case and reaffirmed his stance that the entire saga was a waste of time.
"I think it's just a ridiculous waste of everybody's time," he told WBZ's Carl Stevens. "I think there would be thousands and thousands of football fans and the general public who feel the same way I do."
© Copyright IBTimes 2023. All rights reserved.
FOLLOW MORE IBT NEWS ON THE BELOW CHANNELS