Yu Darvish Rangers: Is Yu Dog, Signs Racist?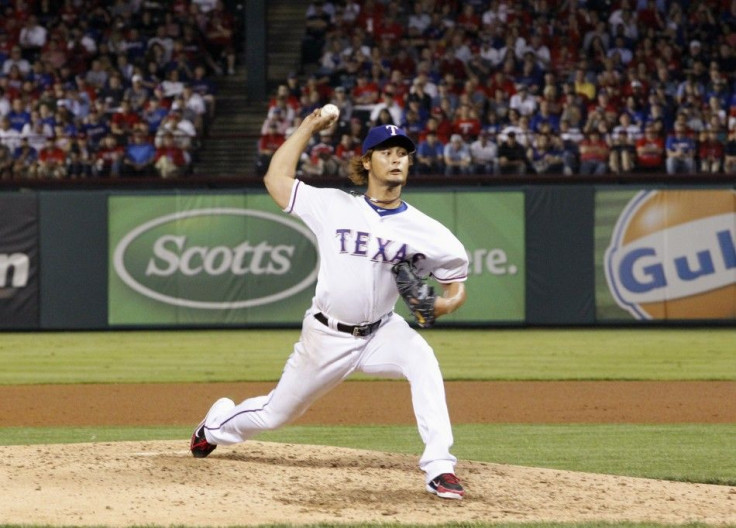 The Yu Darvish show was officially introduced in Texas on Monday when the Japanese superstar earned his first win as a Texas Ranger, but issues of racism have overshadowed his impressive first game.
CNBC's Darren Rovell tweeted frequently on Monday night about the Yu Dog, a new food introduced at Rangers Ballpark. According to Rovell's pictures and the Fox Sports Southwest broadcasters, the Yu Dog consists of a hotdog wrapped in deep fried wonton with a seaweed salad, fries in sesame seed oil, and a fortune cookie on the side.
The racism didn't stop there though. There were numerous photos of fans holding up racist signs welcoming Darvish to his first game as a Ranger. One particular sign read We (Heart) Yu Long Time. Another photo showed fans wearing a traditional Japanese get-up.
Even the announcers made some curious comments, according to Yahoo Sports.
They've hit a couple of balls hard. Smoak hit his line drive hard, Seager hit his ball pretty good and then there's been a couple of chinkers, Rangers analyst Tom Grieve said. Ichiro's little blooper and this slider, Olivo just hits right off the end of the bat and just dumps it over Kinsler's head.
This behavior certainly isn't new -- the whole situation with Jeremy Lin set a nice recent precedent -- but still boggles the mind that individuals, especially Rangers personnel, could be so ignorant.
The Rangers might have meant well to make a special hot dog for a pitcher they spent $107 million to acquire, but they should have learned their lesson with Lin. Ben & Jerry's ice cream decided to offer a special Jeremy Lin-inspired ice cream that featured fortune cookies and were forced to remove it due to cries of racism.
That's in addition to an ESPN headline writer fired for using the headline chinks in the armor for a Lin story. Another ESPN anchor was suspended for a month for a similar comment.
The Lin racism was eventually toned down after the ESPN incident, but clearly still hasn't been completely eradicated based on the Darvish incident on Monday night. It's certainly possible all of this was well-intentioned, though it's hard to argue that for the Darvish sign, but it still will rub people the wrong way and put Darvish in a very tough place.
The Japenese export has enough to deal with in adjusting to baseball in the United States -- the last thing he needs is to have to deal with racism.
© Copyright IBTimes 2023. All rights reserved.
FOLLOW MORE IBT NEWS ON THE BELOW CHANNELS