Free Thanksgiving Cards 2015: Best Sites To Send, Print E-Cards For Loved Ones This Thursday, Nov. 26
Thanksgiving can be a busy holiday for those with a lot of loved ones. If you're unable to wish a certain family member or friend a Happy Thanksgiving in person during the annual celebration tomorrow, have no fear! We have compiled a list of six websites you can used to send e-cards free of charge. From services that offer 3-D graphics, personalized messages and more, there's something for everyone to appreciate. (Note: unless otherwise stated, you don't have to sign up for the following sites to send a free e-card.)
Here are six of the best sites to send and print free e-cards for Thanksgiving 2015:
1. Jib Jab
Give your loved ones a hearty laugh this Thanksgiving by creating a personalized Jib Jab card. The site allow you to upload photos which can be embedded into pre-made cartoons. There are dozens of musical, Thanksgiving-themed cards available to use such as "Crazy Turkey Song" and "The Pilgrim Song." If you're looking for something a little more low-key, consider sending the "Thanksgiving PSA" or "Biker Thanksgiving" card. To create a card on Jib Jab, sign in with Facebook or create an account.
2. Just Wink
Just Wink has every kind of e-card you could imagine. Whether you want a greeting that tells your friends and family members just how thankful you are for them, or an emotional card for a romantic partner, they have it all. The site does, however, require its users to create a free account in order to access their selections.
3. 123Greetings.com
Send your heartfelt message in an animated greeting from 123Greetings.com. The site has several pages of free e-cards available to use for the 2015 holiday. If your card recipient is a dog lover, considering sending the "Happy Turkey Day" dog card, which is a video that features dozens of animals in their best Thanksgiving Day attire.
4. Someecards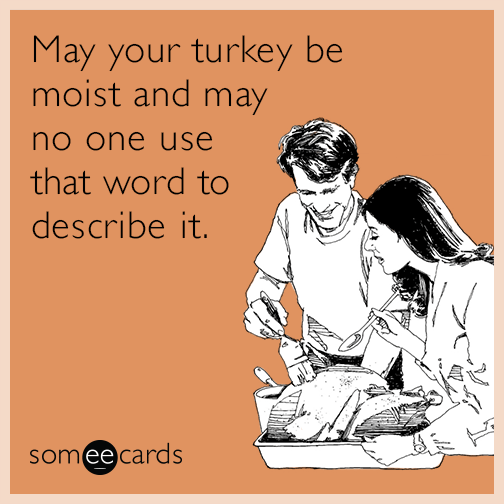 Share a little sarcasm with your family and friends by passing along one of Someecard's comedic greetings. The site has separated their Thanksgiving e-cards into three sections: popular, newest and classic. Whether you want to tell your family "May your turkey be moist and may no one use that word to describe it," or "Hope you don't mind that the side dish I'm bringing to Thanksgiving is several bottles of wine," Someecards is the way to go.
5. Punchbowl
For those who wanted to send traditional cards welcoming friends and family to their dinner celebrations this Thanksgiving but never got around to it, we have your solution. Punchbowl allows its users to send not only personalized e-card invitations, but personalized envelopes as well. The best part? You can make one card and send it to everyone on your guest list. The site has tons of invitations and classic cards to choose from. To make sure the card you select is free of charge, simply select the "free signs" options on the Thanksgiving invitation page and you're all set!
6. GotFreeCards.com
This site not only sends e-cards free of charge, it also allows users to print them. Talk about a win-win situation! There are several animated cards to choose from. Users can limit their options by choosing to search through the site's most e-mailed and most rated sections. A neat feature offered by GotFreeCards.com is the option to send your creations via Twitter.