Luxury Goes Overboard on Luxury Cruise Ships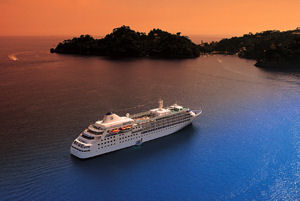 We're very big fans of cruising – but only on the most luxurious ships: Silversea, Regent, Oceania, Seabourn, SeaDream Crystal and Windstar.
In a nutshell, what makes these luxury lines special, unique, and different as compared to mass-market cruises comes down to being 'nickel-and-dimed.' On luxury cruise lines, amenities listed below are included in the one price you pay upfront. On mass-market cruise ships – the ones that typically cram thousands of people into their quarters, making for long lines at elevators, restaurants, movies, shows, and more – you have to pay (and sign for) just about everything:
• Daily gratuities for room attendants, and dining room personnel
• All liquor (premium, top-shelf brands)
• Non-alcoholic beverages
• Butler service (in many cases)
• Gourmet meals
• Gourmet coffee drinks
• Bottled water
• DVD movies
• Laundry
• Exercise classes
A luxury ship is quite literally, a dreamboat, where your comfort and convenience are primary. When you disembark for shore, there's a staff member passing out complimentary bottled water. When you order a drink, chances are the waitperson knows your name and exactly what you prefer to drink – and will serve it without you having to sign for it. When you desire a latte and a biscotti, there's no charge in the bistro. Want to watch a movie in your room? Just grab it from the library.
In contrast on the more mass market cruises, charges for a cocktail can run anywhere from $7.50 to $15.00 – and you're likely to find the alcohol in the drink is portion-controlled and quite weak. A soft drink can easily run $3.00, a coffee $3.50. A simple beer (non-premium)? Probably $4.50.
Pool Deck service: Let's face it, most cruise itineraries run to warm-weather destinations, and as a result, the Pool Deck is the place to be every day. The differing level of service on the Pool Deck, between a mass-market cruise line and a true luxury line, is quite stark. On any of the luxury lines mentioned above, the staff-to-guest ratio on the Pool Deck is very high, and your needs, whether for towels or drinks or even a cool spritz, will be met almost before you ask for them. You won't have to leave your chair for anything. Try that on a lesser cruise line. It won't happen.
Furthermore, luxury ships seek to anticipate your every need – they offer sybaritic sleep in updated, upscale bedding; sometimes offer your choice of bathroom amenities; include comfy robes and slippers; and handle any sort of special requests – whether you want to surprise your spouse with rose petals strewn around your room, want to indulge in hot fudge sundaes in the hot tub, desire a surprise anniversary cake, or yearn for an extra special shore excursion that requires the staff to go-the-extra-mile. How far do you want to push the upscale envelope? It doesn't matter – a luxury ship will accommodate – and with a smile. There is no No. Just try that on a mass-market ship! You're sure to be disappointed.
For us, true luxury in travel is an experience that evokes emotions big and small. It may have an element of the unexpected, be a once-in-a-lifetime dream for only a few privileged people, feature lavish, over-the-top attention to detail, or be designed to offer abundance, plush pampering and ultimate convenience. It could be any of the following:
• Incredible or personalized surprises (such as a pair of the cruise line's logo pajamas, monogrammed with your name, given as a gift on the first night, on SeaDream Yacht Club);
• Over-the-top, unique experiences (an excursion to a private, manicured Tahitian island on Regent Seven Seas' Paul Gauguin – a trip that still gives us goosebumps)
• Making the mundane sybaritic (a choice of full-sized Red Flower bath amenities on Crystal Cruises, available in your choice of two scents);
• Or ultimate convenience (Silversea's Personalized Voyages, allowing guests to embark and disembark, for days at a time, and Seabourn's new Personal Valet luggage shipping from home to cabin).
On luxury cruise ships, everyone enjoys Trump-like travel. You'll discover that the only thing better than being a VIP – is being treated like one.