2 Racehorses Die In Collision: Buckbuckbuck Mach, A Sudden Twist Euthanized After Flamboro Downs Crash [VIDEO]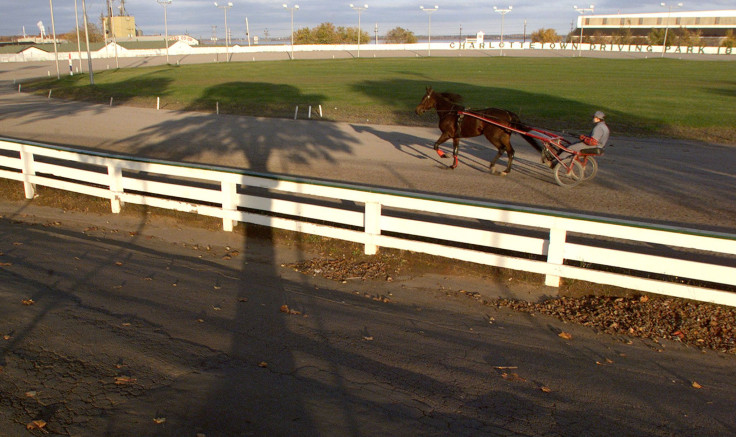 Two racehorses had to be euthanized after a head-on collision during a harness race in Ontario.
The incident occurred during a Thursday night harness race at Flamboro Downs in Dundas, Ontario, Canada, the Toronto Sun reported. The two horses, named Buckbuckbuck Mach and A Sudden Twist, each suffered grievous injury and had to be put down after the race.
On the race's first turn, a collision between several drivers ejected two jockeys from their seats and knocked one horse, Buckbuckbuck Mach, free from his harness, according to a statement by Standardbred Canada. The race continued after the collision, despite the track's warning lights being activated.
Free of his harness, Buckbuckbuck Mach got to his feet and began to run the wrong way on the track, directly toward the oncoming pack of horses, the statement said. As the group of horses completed the race's second turn, Buckbuckbuck Mach had a head-on collision with A Sudden Twist, and both horses were knocked to the ground.
None of the drivers involved in the crashes required medical attention. However, track officials were forced to euthanize the two racehorses.
"Please join Standardbred Canada in sharing condolences with the connections of Buckbuckbuck Mach and A Sudden Twist," organization officials said in a statement. The deadly race, which was the final event of the evening at Flamboro Downs, was declared a "no contest."
A video of the racehorses' head-on collision can be viewed below. Warning: the video contains graphic images.
[h/t Deadspin]
© Copyright IBTimes 2023. All rights reserved.