20 Years Of NAFTA: Enrique Peña Nieto, Barack Obama and Stephen Harper Talk The Economic Future Of North America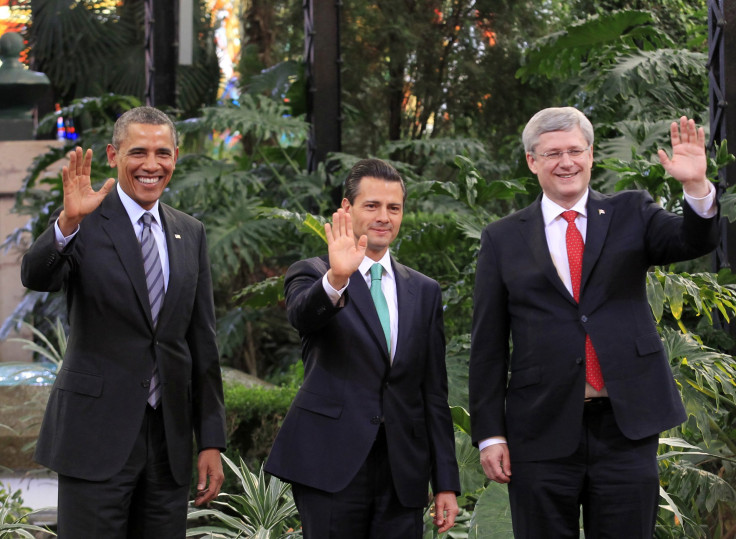 MEXICO CITY – They came, they saw, they talked. The 20th-anniversary NAFTA summit, which reunited U.S. President Barack Obama, Mexican President Enrique Peña Nieto and Canadian Prime Minister Stephen Harper, was held on Wednesday evening in the industrial city of Toluca, Mexico, and it presented an opportunity for the three North American leaders to anticipate the future of the continent's trade and cooperation.
In a press conference held in the center of Toluca, all three leaders praised advances of the region's cooperation in the past two decades, but as pointed out by Peña Nieto, recognized the need to "go a step further."
"The North American Free Trade Agreement marked a fundamental change in the global trade scheme," said the Mexican president in his address to the international press. "Back in the day, it was the world's largest free trade area, and it gave an unparalleled push to exchange, investment and the creation of jobs."
And indeed, NAFTA was an example in economic integration, and it helped the North American region grow larger and together for the next 20 years. Trade within the three countries has quadrupled, growing to a current $100 billion and a combined GDP of $18 trillion.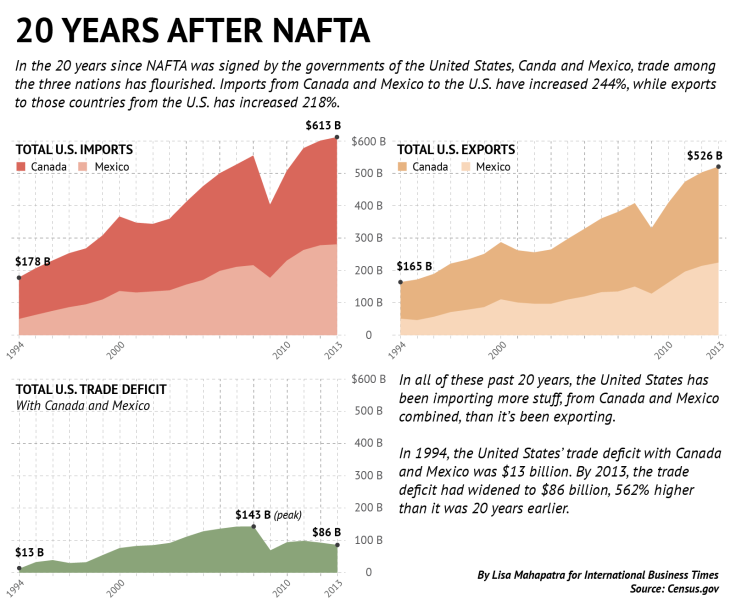 However, as said in the meeting, the collaboration can still be taken a step further. Next in North America's laundry list is the creation of a free transit space, where entry to all three nations is easier for frequent business travelers, and a deeper collaboration with issues like green energy and fuel.
An issue mentioned by all three leaders in their speeches was the Trans-Pacific Partnership (TPP), the ambitious 12-nation trade pact being negotiated between North American and Asian countries.
"The Trans-Pacific Partnership is an opportunity to open our markets and to open ourselves to new markets in the Asia-Pacific region, one of the fastest growing and most promising in the world," Obama said.
When asked about the opposition to the partnership expressed by Republican parties in the U.S., Obama said that the negotiations in Congress were yet to reach a conclusion.
Another key point of the discussion was energy and fuel. A larger cooperation in the field would make North America "the largest provider of fuel in the world," as mentioned by Harper. With the upcoming opening of state-owned Petróleos Mexicanos (Pemex) to foreign investment, it could soon be a reality.
Here is the full list of topics discussed in the summit:
Shared prosperity
- Creation of a "Trusted Traveler" program, which would allow frequent travelers to be prescreened for an easier transit between the three nations.
- Harmonize trade information, according to a unique standard, to make business easier for companies.
- Joint investment and cooperation in tourism, with the creation of a North American Transportation plan
Innovation and education
- Creation of a Trilateral Council for Investigation, Development and Innovation, to promote opportunities for entrepreneurs and researchers
- Increase student exchanges between the three countries
Energy and climate change
- Organize a meeting of North American Energy Ministers in 2014, to advance the talks on cooperation in energy
- Further efforts to reduce production and consumption of climate-damaging hydrofluorocarbons (HFCs), in accordance to the Montreal Protocol
- Further coordination in the Clean Air and Climate Coalition
Citizen safety
- Expand the North American Plan for Animal and Pandemic Influenza and include other threats to health safety
- Increase cooperation to fight human trafficking and organized crime
Regional and world communication
- Offer North American assistance for a Central American natural disaster insurance to give the region a fast first response
- Increase North American cooperation in matters of energy in Central America and the Caribbean
FOLLOW MORE IBT NEWS ON THE BELOW CHANNELS