2010 Census results release : live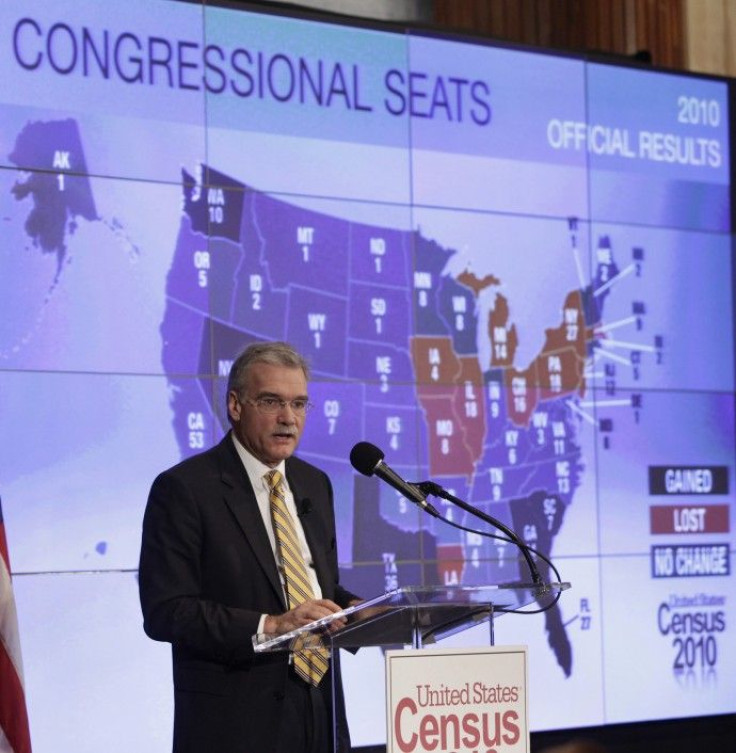 The U.S. Census Department is releasing the 2010 Census results. Not only is this a massive wealth of information, it also has important implications for the allocation of seats in the House of Representatives and federal spending dollars.
11:00 a.m. to 11:15 a.m. - Secretary Gary Locke is delivering introductory remarks, including the success of the 2010 Census project, which did not go above budget.
11:23 a.m. - Official count of the U.S. population as of April 1st 2010 is 308,745,538. In 2000, it was 281,421,906 (9.7 percent lower).
For more details, click on the articles below:
Census 2010 Interactive Map and Data
U.S. population jumped by almost 10% over past decade
11:26 a.m. - Nevada is the fastest growing state as its population expanded 35.1 percent from 2000 levels. In 2000, its population grew 66 percent from the prior decade. Meanwhile, Michigan's population declined 0.6 percent.
11:29 a.m. - 12 House of Representative seats shifted. Those that lost seats were Illinois, Iowa, Louisiana, Massachusetts, Michigan, Missouri, New Jersey, New York, Ohio, and Pennsylvania.
Those that gained seats were Arizona, Florida, Georgia, Nevada, South Carolina, Texas, Utah, and Washington. Texas gained the most, with 4 additions. Texas has gained seats for 7 consecutive decades.
11:40 a.m. - Information now available for download online at : http://2010.census.gov/news/press-kits/apportionment/apport.html
from 11:40 a.m. - Q&A with the press
© Copyright IBTimes 2023. All rights reserved.