2014 Midterm Elections: More Women In The Electorate, But More Men Vote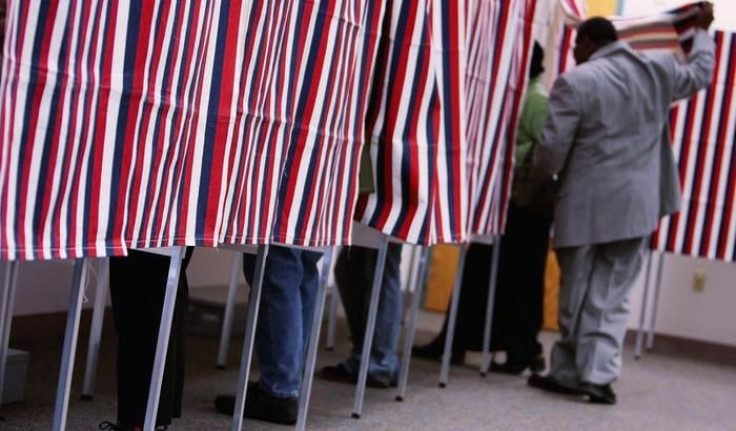 Recent surveys found Republicans are heavily favored among men and white voters but are also captivating women in key Senate races. It looks like a red flag for the Democratic Party, which typically holds the advantage among female votes. At a time when polls show tight Senate races in several key states and as midterm elections draw near, the female electorate wields a lot power. The question is will they use it?
"At the end of the day, we will win these races if we win more women than [Republicans] win men," Matt Canter, deputy executive director of the Democratic Senatorial Campaign Committee, told the Wall Street Journal. Women generally make up more than half of the electorate. But voter turnout among historically under-represented groups — like single and minority women — has decreased significantly in recent midterm elections, according to Women's Voices Women Vote. Earlier this month, a Wall Street Journal/NBC News poll found men are more enthusiastic about voting than women. Cornerstone Democratic groups, such as women age 18-49 and college-educated women, were among the least enthusiastic of likely voters.
Historically, men are more likely to vote Republican and women are more inclined to vote Democrat. In 2010, however, women backed the GOP 48 percent, winning Republicans 63 House seats and six Senate seats, according to the exit polls from the Pew Research Center for that year.
This week, a USA Today/Suffolk University poll found Republican Rep. Cory Gardner is drawing equal support from men and women in the Colorado Senate race and he's leading Democratic Sen. Mark Udall 46 percent to 39 percent among likely voters. Udall has dedicated a large part of his campaign to abortion rights and contraception, issues that would usually appeal to female voters. In fact, a local Denver reporter dubbed Udall "Mark Uterus" during the second Colorado Senate debate. But a Quinnipiac University poll released Friday showed Gardner pulling more support from men than women and still winning overall. In other words, "men go Republican more than women go Democratic," the poll concludes.
A large advantage among women in New Hampshire and North Carolina is helping Democratic Sens. Jeanne Shaheen and Kay Hagan, respectively, maintain a slim edge in the polls. A CNN/ORC poll of likely voters in New Hampshire this week showed Shaheen leading her GOP opponent Scott Brown 49 to 47 percent, but well within the 4 percentage point margin of error. In North Carolina, the latest poll numbers found Hagan earning 48 percent support to Republican challenger Thom Tillis' 46 percent among likely voters.
© Copyright IBTimes 2023. All rights reserved.
FOLLOW MORE IBT NEWS ON THE BELOW CHANNELS