2014 Midterm Elections: Republican Senate Candidates Boost Ad Spending In 5 Key States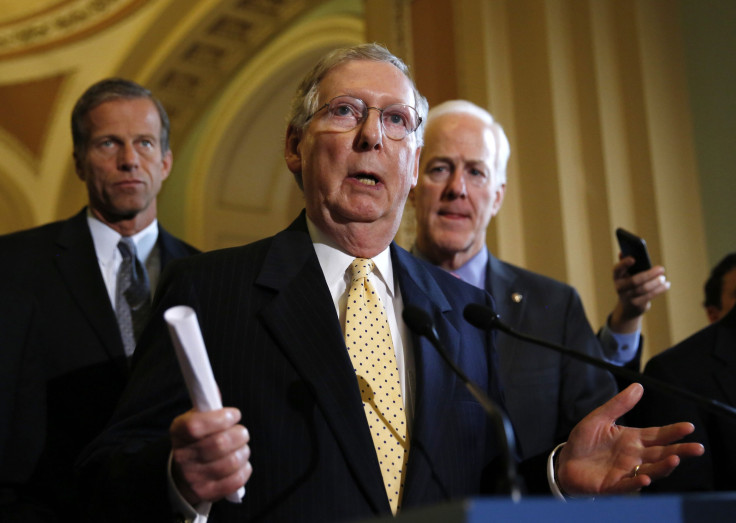 Republicans aired more Senate election ads than Democrats in several battleground states, including Iowa, Kentucky, Colorado and Alaska, a sharp contrast from two weeks ago when Democrats had the ad advantages there. The change comes because of increased spending from outside groups in support of Republican candidates, according to a new study from Wesleyan Media Project, a group that tracks broadcast ads aired by federal and state election candidates across the country.
"Independent group ad sponsors have kept Republicans competitive in a number of the tightest Senate races over the past two weeks," Erika Franklin Fowler, co-director of the Wesleyan Media Project, said in a statement. She said the shift is a "big change from earlier this month" when Democrats led "nearly everywhere."
Between Sept. 12 and Sept. 25, Republican ads outnumbered those favoring Democrats in four of the top 10 Senate races during the second half of September. Republicans poured more money into campaign ads during those two weeks in five of the 10 top Senate races. In Kentucky, 56 percent of the ads favoring current Senate Republican Leader Mitch McConnell were sponsored by outside groups.
In House races, however, Democrats still had the upper hand. Between Sept. 12 and Sept. 25, nearly 37,000 pro-Democratic ads aired in states with competitive races, compared to just 20,000 ads favoring Republican candidates.
"The trend we noticed at the beginning of September continues: Democrats are outmatching, outdoing and outgunning Republicans in House races," Travis Ridout, co-director of the Wesleyan Media Project, said. "The impact of this disparity is still not clear, but Democrats and their allies are certainly working hard to avoid the midterm curse in 2014."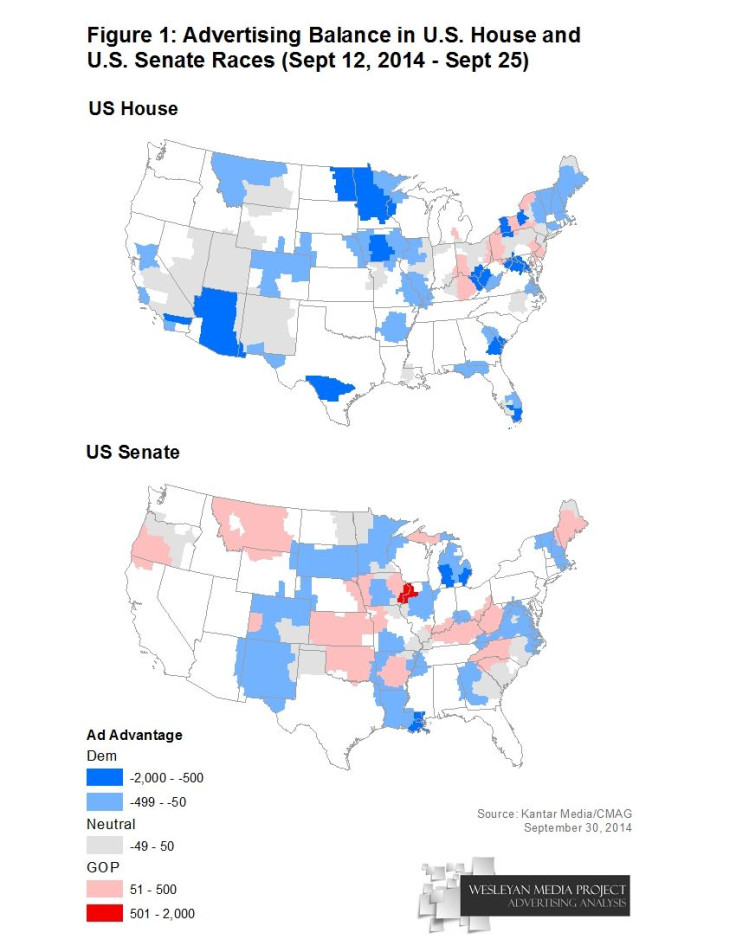 Editor's note: Due to incorrect information provided by Wesleyan Media Project, an earlier version of this story mistakenly included Arkansas as a battleground state where Republicans aired more ads than Democrats. It should be Alaska, not Arkansas. The story has been corrected to reflect this change.
© Copyright IBTimes 2022. All rights reserved.
FOLLOW MORE IBT NEWS ON THE BELOW CHANNELS