2017 French Election News: Wife Of Center-Right Candidate Francois Fillon Formally Accused Of Fraud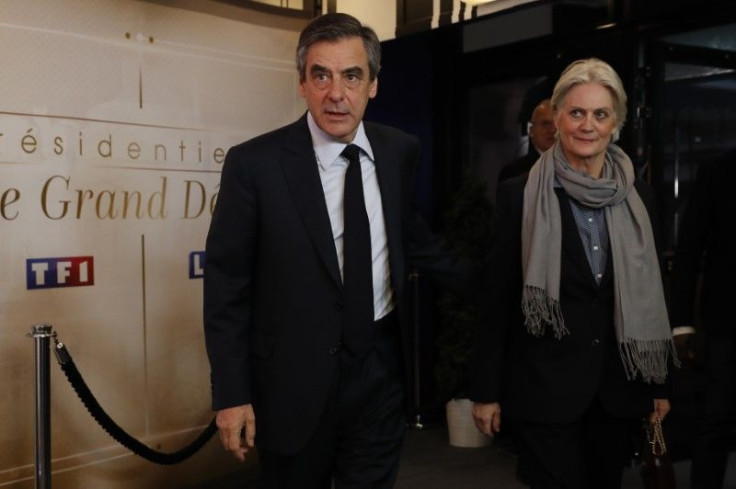 The wife of embattled French center-right presidential candidate Francois Fillon was formally accused Tuesday of accepting 700,000 euros ($756,700) in government funds for work that never was performed. She faces charges of complicity, concealment and embezzlement of public funds, misuse of public funds, and concealment of aggravated fraud.
Fillon was placed under investigation two weeks ago but has refused to end his bid for the presidency even though polls show him running third behind far-right National Front President Marine Le Pen and centrist Emmanuel Macron ahead of the April 23 ballotting. Le Pen also is under investigation for paying National Front employees out of her European Parliament staff allowance. Macron has not been accused of any wrongdoing but was faced with allegations of an extramarital affair.
Read: Fillon Accused Of Paying Wife Government Funds For No-Show Job
The couple have denied wrongdoing.
Penelope Fillon appeared before a three-judge panel investigating the allegations that also involve the couple's children. The alleged payments were made from 1986 to 2013 while Fillon was a member of Parliament and a senator.
Penelope Fillon has not commented on the allegations but in a 2007 interview with the Telegraph in London she denied ever working for her husband. Le Parisien reported Penelope Fillon earned 5,000 euros ($5,405) a month working full-time for the Revue des Deux Mondes at the same time she collected 3,872 euros ($4,185) a month as her husband's parliamentary assistant.
Read: Marine Le Pen Denies Kremlin Funding
Fillon said his wife worked as his deputy for 15 years, handling his schedule, representing him at cultural events and performing other duties
The scandal erupted in January when the satirical newspaper Le Canard Enchaine revealed Fillon had paid his wife and two children for a decade.
The upcoming French election to replace Socialist President Francois Hollande, who declined to seek a second term, is seen as the next test of European populism. Dutch voters earlier this month rejected far-right candidate Geert Wilders in favor of conservative Prime Minister Mark Rutte and his Party for Freedom and Democracy.
An Ipsos poll released Tuesday indicated Le Pen likely will secure 25 percent of the vote in the first round of voting, Macron, 24 percent, and Fillon, 18 percent, setting up a May 7 runoff between Le Pen and Macron.
© Copyright IBTimes 2023. All rights reserved.