Russia Interfering In France's Election? Marine Le Pen Denies Kremlin Funding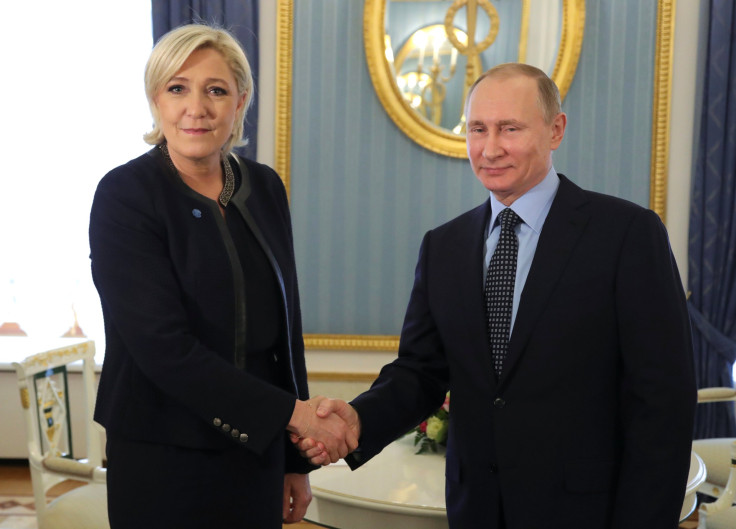 Far-right French presidential candidate Marine Le Pen told the radio broadcaster Europe 1 on Monday that she had received funding for her campaign from neither the Russian government nor any Russian banks. Her comments came days after she met with Russian President Vladimir Putin on Friday.
"No, no," she said when asked whether her campaign had gotten financial help from Moscow. She admitted, however, that her party, the National Front, or FN, had solicited money from foreign sources. "Out of necessity! They prevented me from borrowing from French banks, and gave the appearance of reproaching me for going to search for loans from foreign banks… The financing is not closed. The French banks have refused to lend to me. They loaned money to the entirety of the presidential candidates, save for me," she said.
Read: Will Vladimir Putin Endorse Marine Le Pen? Russian Leader Holds Friendly Meeting With French Election Frontrunner
The FN, the populist, far-right party for which Le Pen serves as president, received an $11.7 million loan from the Moscow-based First Czech Russian Bank, French online investigative site Mediapart reported in 2014. A former agent in Russia's Soviet-era police force, the KGB, handed Le Pen's father and the party's founder, Jean-Marie — who was later removed from the FN for his anti-Semitic remarks — a loan of $2.5 million, Mediapart also found.
At the time, FN treasurer Wallerand de Saint-Just reportedly offered the same defense of the party's financial ties as Le Pen did on Europe 1 Monday morning, and suggested that the party might later request campaign donations Russia once more.
In February of last year, the FN made such a request, asking for $29 million from the same private Russian commercial bank. Saint-Just said the party had sought financial help from foreign banks, "so why not Russian ones?" Le Figaro reported.
In her interview with Europe 1, Le Pen also defended her meeting with Putin at the Kremlin Friday, describing it as an act of diplomacy.
"When I go to these countries, I don't adopt the entirety of their internal policy," she said. "I am in a diplomatic approach. I am not there to distribute the good and the bad points, even if France must always persuade in order to move forward the rights of men and women."
Read: What Is A Burkini? French Election Candidates Clash Over Issue At Presidential Debate
At the meeting, Putin appeared to disavow suspicions that the Russian government had interfered in the French elections. The center-left party of Emmanuel Macron, Le Pen's leading opponent, accused Russia in mid-February of hacking its campaign computer systems, a claim Moscow dismissed as "absurd."
Le Pen and Macron were nearly tied in recent polls for the April 23 first-round election. But when those same polls paired the two for a hypothetical May 7 runoff competition, Macron appeared poised to beat Le Pen by a wide margin.
© Copyright IBTimes 2023. All rights reserved.
FOLLOW MORE IBT NEWS ON THE BELOW CHANNELS