28 Wagons With Missiles For S-300 System Head To Ukraine Border From Russia
KEY POINTS
Train from Ulan-Ude may arrive at the border on Aug. 20
Belarus reportedly preparing for missile attack on its Independence Day
Over 120 containers with missiles have been removed from a facility in Kotovo
Ukraine has claimed that Russia is concentrating anti-aircraft guided missiles for the S-300 air defense system on the Ukraine border and occupied territories.
According to the Strategic Communications Department of the Armed Forces of Ukraine (StratCom), the missiles are coming in from Ulan-Ude, the capital of the Buryat Republic in Russia.
"In early August, trains with ammunition consisting of 28 wagons with missiles for the S-300 air defense system amounting to 32 anti-aircraft guided missiles left Ulan-Ude. The train will arrive at the border with Ukraine approximately on the 20th day of August," StratCom posted on Telegram.
Over 120 containers with missiles for the S-300 air defense system were removed from the arsenal of complex storage of missiles, ammunition, and explosive materials in Kotovo by mid-August, it added.
The authorities also believe that Russia is also accumulating missiles for the S-300 from the Zyabrovka airfield in Belarus, which is 22 km from the border with Ukraine. At present, there are 60 units of transport and launch containers.
"The threat of massive attack on the territory of Ukraine, at least, by S-300 missiles are obvious. Taking into account the arrival of trains by the 20th day of August, it is also obvious that they are concentrating and preparing for August 24, which is Ukraine's Independence Day," StratCom of the Armed Forces of Ukraine added.
Oleg Zhdanov, a military expert and reserve colonel of the Armed Forces of Ukraine, told Kyiv Post that Belarus is already preparing for a massive missile attack on Ukraine on Independence Day. The enemy can attack from three sides at once – not only from Belarus but from the Black Sea and Russia, he said.
"In my opinion, preparations are underway in Belarus. Most likely, they will conduct a massive strike that will involve the maximum number of launchers and the maximum number of missiles," the military expert added.
About 440 transport and launch containers were stored for the S-300 air defense system in the Dzhankoi airbase in Crimea, according to Ukraine officials.
"However, it is difficult to say whether these transport and launch containers were completely wrecked, partially destroyed, or not damaged at all," the StratCom statement added, referring to the powerful explosions reported in Crimea on August 16.
Multiple videos had done rounds on social media showing Russian ammunition detonating. Crimean Tatar leader Refat Chubarov had claimed that a Russian ammunition depot was hit in Azovske village and there was a detonation.
Meanwhile, Russian state news media TASS reported that the explosions were caused by sabotage. Several civilian facilities, including power lines, power plants, railway tracks, and residential buildings, were damaged in the attack. Two people sustained minor injuries in the incident.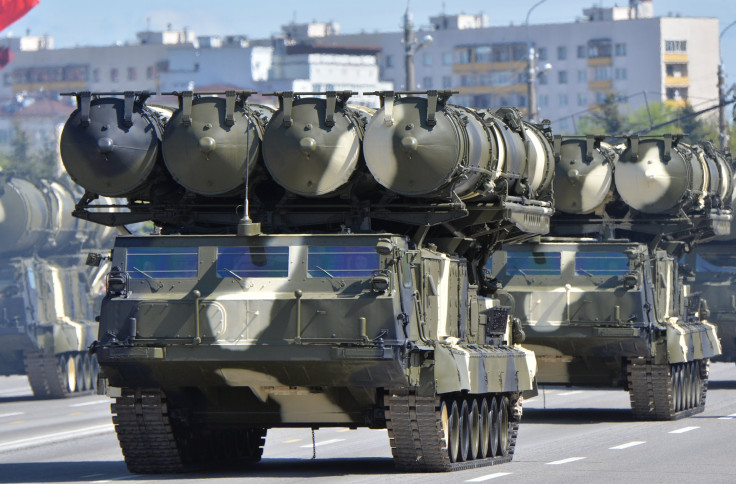 © Copyright IBTimes 2022. All rights reserved.
FOLLOW MORE IBT NEWS ON THE BELOW CHANNELS