3 Best Sports F-Bomb Outbursts During Championship Celebrations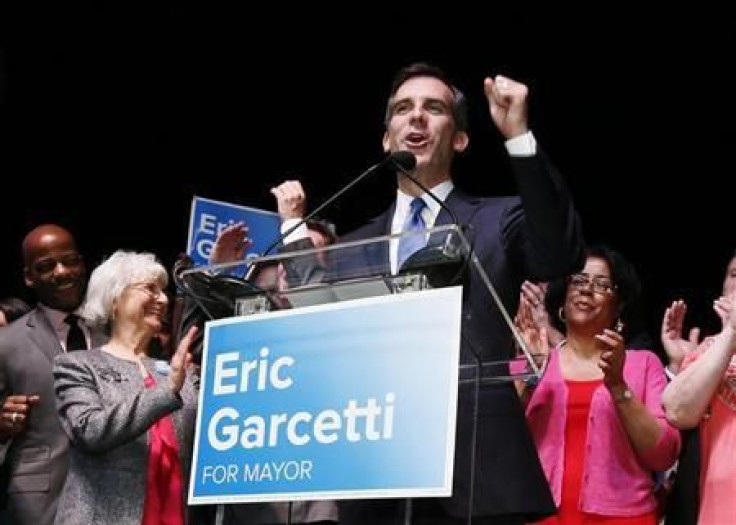 The Los Angeles Kings held their Stanley Cup championship parade on Monday, following their Game Five victory over the New York Rangers. While thousands of fans came out to celebrate the players who brought another title to L.A., it was the city's mayor that ended up creating many of the headlines.
When the celebration moved away from the streets and inside Staples Center, Mayor Eric Garcetti addressed the crowd. Before he was done talking, he dropped an f-bomb, which sent the fans into a frenzy.
"There are two rules in politics," Garcetti said. "They say never ever be pictured with a drink in your hand, and never ever swear. But this is a big f----ing day. Way to go, guys."
Garcetti isn't the first person to let his emotions get the best of him at a professional sports rally. Less than two months ago, Toronto Raptors general manager Masai Ujiri yelled "F--- Brooklyn" to a crowd of fans that was waiting for the team to start their first-round playoff series with the Brooklyn Nets.
The Raptors went on to lose that series, but there are several examples of players dropping f-bombs at championship celebrations. The following videos are NSFW.
Chase Utley (2008 Philadelphia Phillies Parade)
After leading the Phillies to their first World Series title in 28 years, the team's starting second basemen couldn't contain his excitement at the championship parade.
"World f----ing Champions!" he screamed to the crowd.
Utley's outburst actually upset a number of people watching the celebration. According to Philly.com, the FCC received 26 complaints about the incident. Utley later addressed the issue, urging kids not to repeat what he said.
Jonathan Quick (2012 Los Angeles Kings Parade)
Mayor Garcetti wasn't the first person to drop an f-bomb at a Kings' Stanley Cup celebration. When the team won its first title two years ago, Quick committed a similar faux pas.
"How about this f---ing team right here!" the goalie said at Staples Center.
Quick didn't curse just once. He dropped three f-bombs, before finally cleaning up his language. While some viewers may not have been happy, many likely accepted it from the man who won the Conn Smyth Trophy and set a record for save percentage in the playoffs.
Corey Crawford (2013 Chicago Blackhawks Parade)
A year after Quick's outburst, another Stanley Cup winning goalie made news by cursing on national television. In front of the over two million Blackhawks fans that took to the streets to celebrate their team's championship, Corey Crawford let loose.
"F---ing right Chicago!" Crawford screamed to the crowd.
Crawford dropped two f-bombs, before walking off the stage.
© Copyright IBTimes 2023. All rights reserved.