3-Point Contest 2016: Prediction, Betting Odds, Participants For NBA All-Star Shootout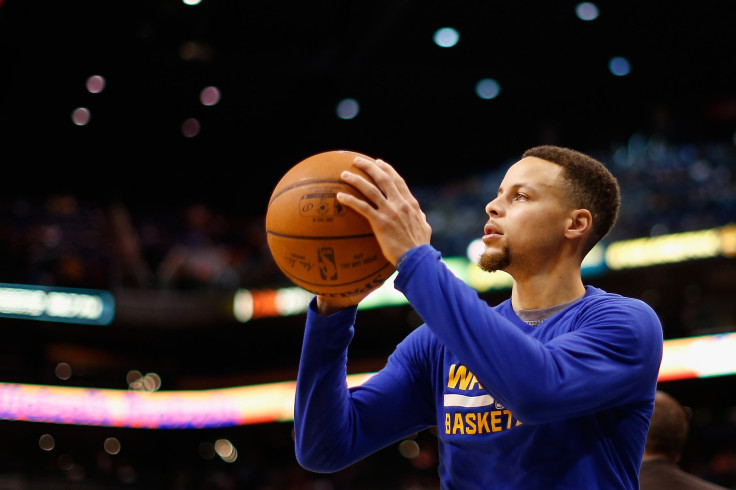 A year after Stephen Curry won his first ever NBA Three-Point Contest, the Golden State Warriors star will defend his title. Considered by many to be the best shooter in league history, Curry is favored to be victorious on NBA All-Star Weekend 2016 in Toronto.
Heading into the All-Star break as the overwhelming MVP favorite, Curry has even betting odds to win the title for a second straight season, via Sportsbook.ag. He has set a record with 245 made three-pointers before the All-Star Game, shooting 45.4 percent from three-point range. Curry leads the NBA with 10.8 attempts per game from behind the arc.
Curry won the 2015 Three-Point Shootout by having the best final round in the contest's history. Klay Thompson and Kyrie Irving also advanced beyond the first round, but they were no match for Curry's record-setting 27 points. Curry was able to set the record by taking advantage of the money ball rack, which was added to last year's contest.
J.J. Redick is considered to be the biggest threat to Curry with +350 odds. The Los Angeles Clippers guard is having the best season of his career, averaging 16.4 points on 47.6 percent shooting from three-point range.
Thompson has a chance to knock off his teammate with +450 odds. Thompson is shooting right at his career average by making 42 percent of his three-point attempts. Only Curry has made more threes this season.
James Harden is third in the NBA with 155 three-pointers made. Last year's runner-up for MVP is averaging a career-high 28 points per game, but his 35.5 three-point percentage is the worst of any player in Saturday's contest.
Kyle Lowry (+1000), Khris Middleton (+1800) and Devin Booker (+800) are all competing in the contest for the first time in their careers. Lowry ranks second among Eastern Conference players with 145 three-pointers made, and he's shooting a career-best 39.2 percent from behind the arc. Both Middleton and Booker are slightly above 40 percent.
Chris Bosh is the most unlikely participant in the eight-man field, and that's reflected in his betting odds. The Miami Heat big man is easily the biggest longshot with +4000 odds. Bosh didn't make more than 10 three-pointers in any of his first nine NBA seasons, but he's already set a personal record with 81 shots made from behind the arc.
Kawhi Leonard leads the NBA with 48.2 percent shooting from three-point range, but he's not in the contest. Jason Kapono was the last player to win the contest and end the season as the league's leading shooter.
There hasn't been a repeat winner of the Three-Point Contest since Kapono did it in 2007 and 2008.
Prediction: Curry. Thompson might be the NBA's second-best shooter, and should give Curry a run for his money. But it's hard to bet against Curry, who is shooting as well as anyone in NBA history, and once knocked down 77 in a row in practice.
© Copyright IBTimes 2023. All rights reserved.