4 Books To Read By Svetlana Alexievitch, Nobel Prize Literature Winner And Ukrainian-Belarusian Author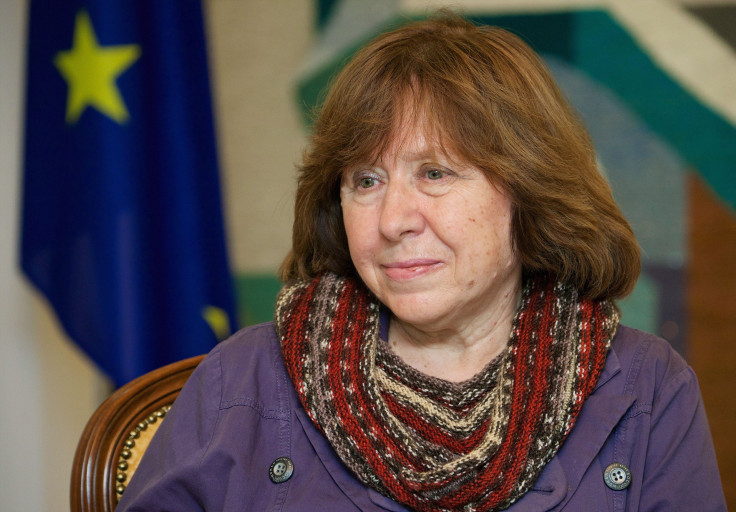 Few English-language readers are familiar with the work of Svetlana Alexievich, the 2015 winner of the Nobel Prize for Literature. Her most famous books have been translated into English, however, and the following is a sampling of works by the Ukrainian-Belarusian author, known for her "polyphonic" style and investigative approach to fiction writing:
4. "Enchanted with Death": Chronicling the many attempted suicides following the downfall of the Soviet Union, this 1993 book made waves in the former Soviet republics for taking a close look at a problem so few were willing to acknowledge.
3. "Zinky Boys: Soviet Voices from the Afghanistan War": Alexievich has become known for her ability to document the most important events of Soviet history using a more intimate style. This book documented the lives of soldiers who fought in the Afghanistan War in the 1980s and drove the conflict home for many people who were unfamiliar with its gritty day-to-day.
2. "Voices from Chernobyl: The Oral History of a Nuclear Disaster": Alexievich's watershed 2005 book collected hundreds of interviews conducted with people who survived the Chernobyl disaster in 1986, which was the worst nuclear reactor incident in history. Check out this excerpt, as printed by the Paris Review:
There's a fragment of some conversation, I'm remembering it. Someone saying: "You have to understand: This is not your husband anymore, not a beloved person, but a radioactive object with a strong density of poisoning. You're not suicidal. Get a hold of yourself." And I was like someone who'd lost her mind: "But I love him! I love him!" He's sleeping, and I'm whispering: "I love you!" Walking in the hospital courtyard, "I love you." Carrying his sanitary tray, "I love you."
1. "War's Unwomanly Face": Published in 1985, this novel based on the true stories of women who fought against the Nazis during World War II was Alexievich's first work of fiction. It was also based on extensive interviews with the veterans.
© Copyright IBTimes 2023. All rights reserved.