49ers Expected Not To Make It Easy For Seahawks To Acquire Jimmy Garoppolo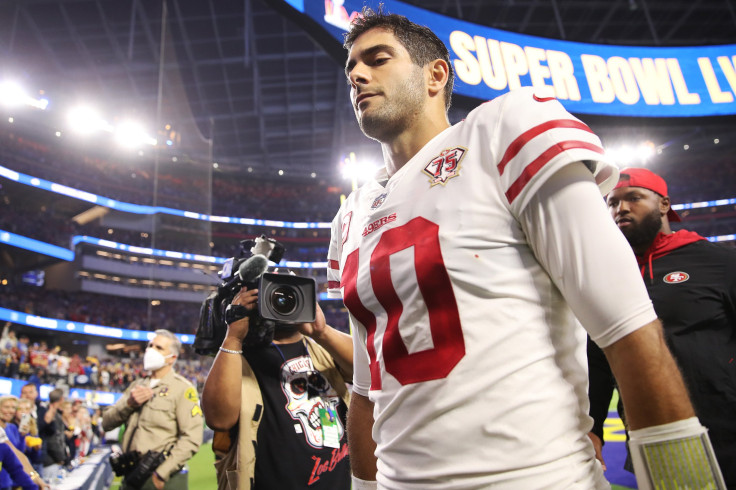 KEY POINTS
The Seahawks are very interested in Jimmy Garoppolo
The Niners appear they won't give the Seahawks any advantage for now
Other NFL teams will be monitoring Garoppolo closely next season
The Seattle Seahawks need a seasoned quarterback, and there is perhaps no other better candidate that would make sense than Jimmy Garoppolo.
But considering they are the NFC West rivals of the San Francisco 49ers, sealing any deal will not be easy if not improbable.
While this has been mentioned often in the past weeks, former NFL executive Mike Lombardi feels this is the reason why Seattle cannot easily get their hands on the two-time Super Bowl champion.
"I keep asking teams all the time, why don't they just cut Jimmy G now? And the answer that I got back from multiple teams is, 'They don't want him to go to Seattle,'" Lombardi said when he spoke on "The GM Shuffle" podcast. "I said, 'Well how interested is Seattle in Jimmy G?' And [one source] said, 'Oh, they're very interested in him."
Drew Lock and Geno Smith are slugging it out for the right to be the Seahawks' starting quarterback, but it remains that the team could be better off taking in a seasoned veteran quarterback like Garoppolo.
While a move to Seattle cannot be immediately discounted, the Niners could be buying time.
A key date to watch is August 30, the day when San Francisco has to trim down its roster to 53 players.
Should the Niners go on to keep him, there is a chance they would end up cutting Garoppolo before the September 8 season-opener.
Lombardi believes that this is a possibility.
"So what I think will happen is the Friday before the opening weekend, I think they'll cut Jimmy G," he stated. "I think that's when they'll cut him, and then he'll have to go do his contract and go up to Seattle and go there."
Although it appears that everything seems tactical, the understanding is that Seattle truly wants to acquire Garoppolo.
For now, the Niners will leave doors open and may eventually agree to a deal but only when they feel that the time is right.
For the Seahawks, the waiting time could also be a means to help them assess if Garoppolo is fully recovered from his offseason shoulder surgery.
Should Garoppolo show that he is fully healed from it, multiple NFL teams are expected to try and pull off a trade for him.
© Copyright IBTimes 2023. All rights reserved.