50 Killed In Car Bombings Across Iraq, Latest String In Series Of Escalated Violence
Capping off one of the most violent and deadly months in Iraqi history, between 47 and 51 people died on Monday in a string 17 of car bombs denotated across Iraq, concentrated mostly in Baghdad and several other cities the Shi'ite-majority south of the country. 200 people were wounded, Iraqi officials said. The BBC reported the bombs where hidden in parked cars around markets and parking lots.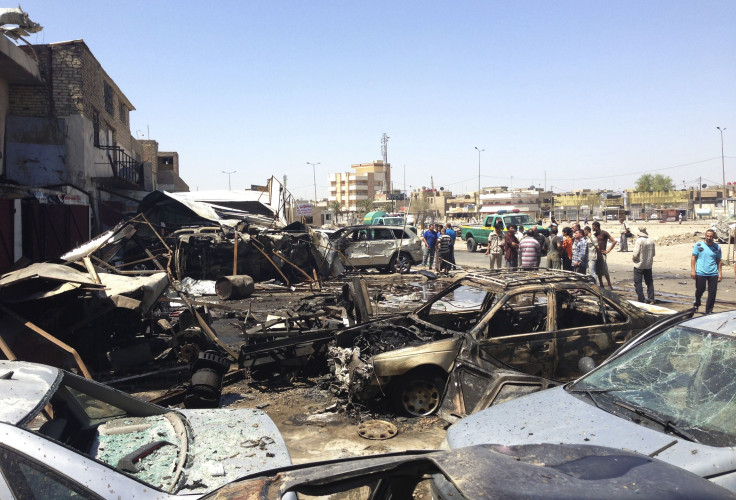 No one has yet claimed responsibility, but al Qaeda's Shi'ite branch in Iraq is known to have carried out similar coordinated attacks in the past.
The UN estimates between 2,500 and 3,000 people have been killed in attacks since April, and violence in the country is now at the highest it's been since 2008, the deadliest year on record in Iraq. 700 people have been killed in July thus far. The number of attacks has escalated since the beginning of the month of Ramadan at the beginning of July.
Acting UN envoy to Iraq, Gyorgy Busztin of Hungary, told Reuters he is "deeply concerned" about the increasing violence, which, he said, "carries the danger that the country falls back into sectarian strife." "Iraq is bleeding from random violence, which sadly reached record heights during the holy month of Ramadan," he said. "Today's attacks are closely linked with the Taji and Abu Ghraib prison breaks, which have encouraged terrorist groups to launch further attacks in areas of a specific sect to put more pressure on the government and undermine security force morale", Hakim Al-Zamili, a senior member of the security and defense committee in parliament, also told Reuters. The Abu Ghraib and Taji prisons are located on Baghdad's outskirts. On July 22 more than 500 prisoners escaped from Abu Ghraib and several dozen escaped from Taji, AP reported.
© Copyright IBTimes 2023. All rights reserved.