50,000-Year-Old Mammoth Discovered In Oklahoma Weighed 10 Tons And Stood 15 Feet Tall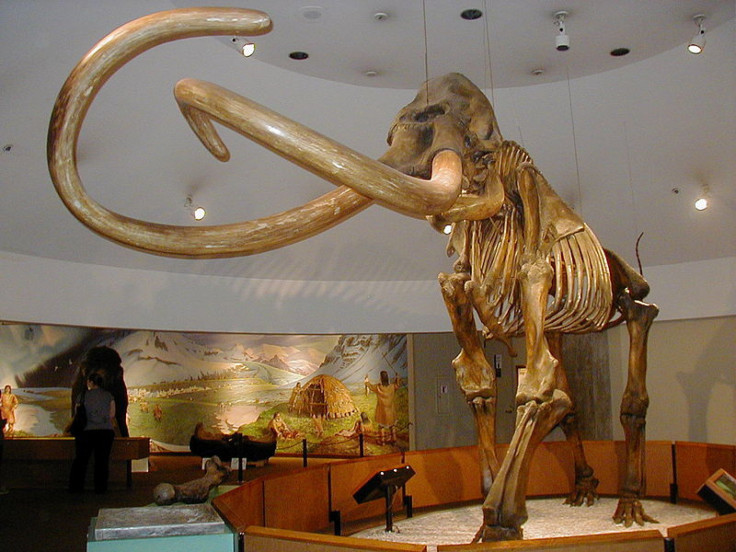 Workers installing a gas line near Enid, Okla., stumbled upon the remains of huge prehistoric mammoth.
According to the Enid News, the workers from a natural gas service provider, Access Midstream, notified the Oklahoma Archaeological Survey, a branch of Oklahoma State University, once they realized they had inadvertently unearthed something out of the ordinary. The mammoth remains were taken to a lab on the Oklahoma State University campus in Stillwater, about 70 miles east of where they were found.
"We are really fortunate to be involved in excavating such a find, and the mammoth's fossilized remains are in very good condition for this type of removal and reassembly," Professor Dale Lightfoot, head of the geography department at the university, told the Enid News. Lightfoot recruited nearly two dozen students to help him excavate the remains.
"Since I'm a sophomore, I'm thinking it's for PhD, master students and I was like the only undergrad. I'm like, 'why aren't more people out here?' This is amazing, only a once-in-a-lifetime kind of thing," Taylor Iberosi, a geography major at the university, told NBC DFW.
Archaeologists working on the prehistoric mammoth say the beast stood 15 feet tall and weighed 10 tons. They also believe the mammoth, which they've identified as a Columbia or Imperial mammoth, is more than 50,000 years old.
Columbia mammoths roamed the Great Plains of North America during the late Pleistocene, a period from 2.5 million to about 11,700 years ago. Similar to the modern African elephant, the Columbia mammoth was a grassland herbivore with long, spiraled tusks capable of reaching nearly 14 feet in length, according to the Denver Museum of Nature and Science.
Tom Cox, a graduate student in geography at Oklahoma State University, said the team studying the mammoth bones wants to know how the animal may have perished.
This isn't the first Columbia mammoth discovered in North America this year. In April, archaeologists excavated the remains of a mammoth just south of Mexico City. It was found under a thick layer of ashes in a gorge, where it apparently had fallen during a volcanic eruption between 10,000 and 12,000 years ago, CNN reported.
The mammoth discovered in April was one of the most complete mammoths ever found in Mexico.
© Copyright IBTimes 2023. All rights reserved.