65% Of Filipinos Want Manila To Assert Territorial Rights In SCS Through Military Action: Survey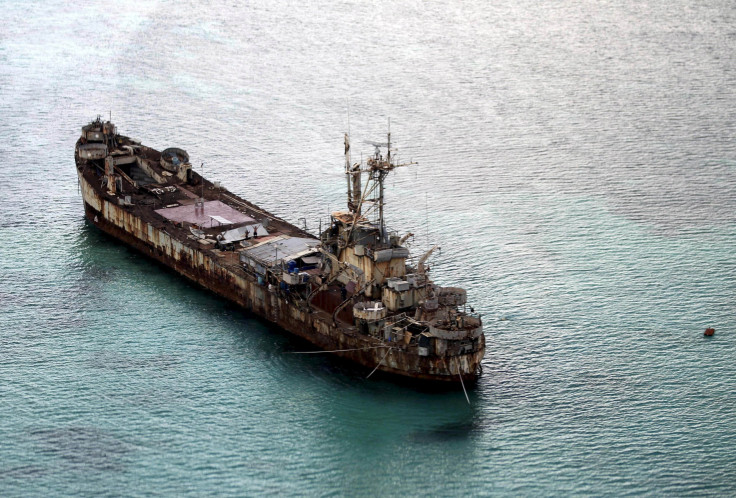 KEY POINTS
61% want modernized and stronger Philippine military capabilities
70% prefer 'diplomacy and other peaceful methods' in relation to the dispute
The Armed Forces of the Philippines said it was considering to deploy maritime militia in the area
A growing number of Filipinos want Manila to assert the Philippines' territorial rights in the South China Sea through military action, a new survey revealed. Tensions have been escalating between the two sides after a China Coast Guard (CCG) vessel used a water cannon on Philippine Coast Guard (PCG) ships earlier this month.
Sixty-five percent of Filipinos want the Philippine government to assert the country's territorial rights over the West Philippine Sea "through military action," as per a new survey by OCTA Research that was conducted from July 21-26. The survey also found that 61% of respondents want the Philippine military's capabilities to be modernized and strengthened to protect its territories.
Late last week, Armed Forces of the Philippines (AFP) chief Gen. Romeo Brawner Jr. said that there are plans to deploy maritime forces in the West Philippine Sea from AFP reserve troops. While funding and vessels to be used by the militia will need to wait, the AFP is also considering deploying more ships and aircraft to patrol the area.
Calls for better defense capacities have been on the rise in recent months over Chinese "harassment" against Philippine vessels in the area. Last month, Rep. Joey Salceda, who heads the Philippine House Committee on Ways and Means, said the defense department should provide clarity on what it needs to boost its resources for preparedness due to escalating tensions in the West Philippine Sea.
However, there are also concerns that the Philippines is not ready for an armed conflict against one of the world's top military powers.
Experts told International Business Times last week that there is "no way" the Philippines can defend itself should China decide to launch a military offensive due to the Southeast Asian nation's current military capacity.
There are also calls for Manila to keep pursuing diplomatic responses even as China's aggression heightens.
In the survey, only 19% said the government should set aside disputes in exchange for joint economic development in disputed areas, while 40% of respondents said they support joint maritime patrols and exercises with allied countries.
A total of 70% said they prefer "diplomacy and other peaceful methods" to be prioritized by Manila in terms of how it should handle escalated tensions over the disputed waters.
The latter results of the survey echo the sentiments of some officials and observers, who say the Philippines has little to no other options besides continuous diplomatic action.
"As we cooperate with our allies to join us in patrolling the area, we should also continue communicating with China without resorting to language that will only rile up the emotions of both sides," Sen. Francis "Chiz" Escudero said as per the transcript of his interview with local radio station DWIZ Saturday that was sent to IBT.
Escudero added that only President Ferdinand "Bongbong" Marcos Jr. or the Department of Foreign Affairs (DFA) should discuss international issues, especially regarding the dispute with China.
On the other hand, there are also calls to be firmer in pointing out China's increasing aggression. PCG spokesperson Commodore Jay Tarriela said Filipinos, whether in the government or private sector, should not make excuses for China's behavior and "unite in calling out China's aggressive and unlawful actions" in the area.
The long-time dispute between China and the Philippines escalated in recent days after the PCG released footage earlier this month that showed a CCG vessel using a water cannon on Philippine ships carrying out a resupply mission at Ayungin Shoal, which is globally called Second Thomas Shoal and China refers to as Ren'ai Reef.
China said it responded accordingly after the Philippines allegedly repeatedly refused to remove the grounded BRP Sierra Madre ship from Ayungin Shoal.
Marcos Jr. has since clarified that he was unaware of any agreement regarding the removal of the rusty grounded vessel. "If there does exist such an agreement, I rescind that agreement as of now," he said last week.
© Copyright IBTimes 2023. All rights reserved.