South China Sea Dispute: Philippines Considers Increasing Defense Budget Amid Chinese 'Harassment'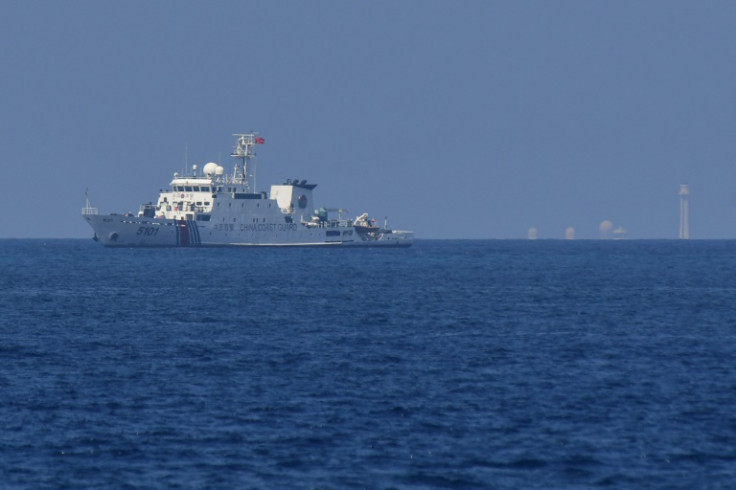 KEY POINTS
Amid growing tensions, the Philippines launched a website that provides "official information" about Manila's arbitration victory over Beijing
This website was launched on the seventh anniversary of the ruling on July 12, 2016
The Chinese foreign ministry has said Beijing will not accept or recognize the 2016 ruling
The Philippines is considering increasing its defense budget due to Chinese "harassment" of the nation's ships near a reef in the disputed South China Sea.
Beijing earlier this week cautioned that any efforts to involve a third party in resolving the maritime dispute might escalate the resource-abundant waterway into a "sea of war."
Rep. Joey Salceda, who heads the Philippine House Committee on Ways and Means, emphasized the need for Congress to be kept updated on the Department of National Defense's advancements in improving maritime capabilities, the South China Morning Post reported. Salceda believes this information is crucial to make an informed decision when approving the military budget for the coming year.
Salceda also urged the defense department to provide further clarity on the resources required to achieve a sufficient level of readiness in responding to China's aggression. He highlighted that his panel possesses the financial capacity to increase funding and is actively seeking additional support from European countries.
Salceda's push for transparency and resource allocation underscores the importance of ensuring the Philippines' maritime capabilities are adequately equipped to address potential threats.
"It doesn't matter what we can afford. We can explore different sources," he said. "What matters is how far we have gone and what steps we still need to take."
Amid the ongoing tensions, the Philippines on Wednesday launched a website that provides "official information" about Manila's arbitration victory over Beijing in the South China Sea territorial dispute. It coincided with the seventh anniversary of the July 12, 2016 ruling, which invalidated China's extensive claims in the disputed waters. The website's launch is part of an ongoing effort by Philippines President Ferdinand Marcos Jr.'s administration to strengthen Manila's stance on the dispute and assert its position in the South China Sea.
However, the Chinese foreign ministry has said Beijing does not accept or recognize the 2016 ruling by the South China Sea Arbitral Tribunal, which declared its claim to nearly the entire South China Sea as unfounded, Reuters reported. This reiterates China's long-standing stance on the matter. Despite the ruling, China maintains its claims and continues to assert its authority over the disputed waters in the South China Sea.
© Copyright IBTimes 2023. All rights reserved.