$70 Million Worth Of Cocaine Weighing Half Ton Found On Private Jet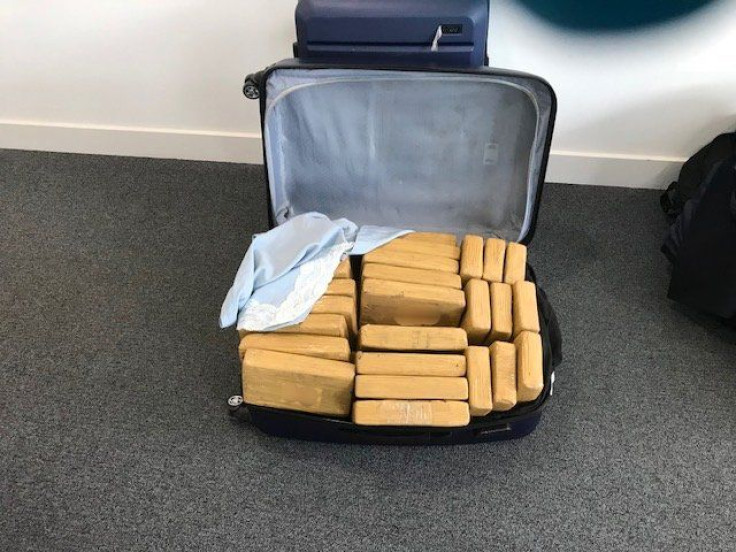 In one of the largest U.K. drug trafficking busts in years, British authorities on Monday seized more than $70 million worth of cocaine weighing around a half ton, according to reports.
Five men were arrested on suspicion of drug trafficking in the case. The drugs were found in 15 suitcases on a private plane that flew into Farnborough Airport in Hampshire, England, from Bogota, Colombia.
Two of the men arrested, Martin Neil, 48 and Stephen Neil, 53, are British. Two others, Victor Franco-Lorenzo, 40, and Jose Ramon Miguelez-Botas, 45, are from Spain. The last man, Alessandro Iembo, 28, is an Italian national.
"After meeting the flight and questioning those on board, officers became suspicious and searched the aircraft and their luggage," said Mike Stepney, a border enforcement official to reporters. "When opened, each case was found to contain between 34 to 37 tape wrapped packages weighing approximately one kilo each. One of these was pierced and a white powder exposed which tested positive for cocaine."
The investigation was undertaken by Britain's National Crime Agency (NCA) and Border Force.
"This is a major seizure of cocaine, one of the largest flown into the U.K. by plane in many years, and this seizure by Border Force represents a major blow to organized crime," said NCA operations manager Siobhan Micklethwaite. "We estimate that once cut and sold on the streets in the UK it would have had a potential value in excess of £50 million ($70 million)."
The NCA also investigated three properties in Bournemouth, England, in relation to the investigation, according to the Telegraph. The agency seized computers and phones from the homes.
© Copyright IBTimes 2023. All rights reserved.