8 NFL Head Coaches Who Could Be Fired On Or Before Black Monday
It wasn't long ago that Dallas Cowboys' head coach Jason Garrett was considered a prime candidate to be fired by the end of the season. However, a trade for wide receiver Amari Cooper and some solid play by the defense led to six wins in seven games, which helped clinch a playoff spot for the Cowboys and in the process gave Garrett some extra breathing room.
Meanwhile, Carolina Panthers (6-9) head coach Ron Rivera said on Friday that he expects to be back next season and ESPN reported that multiple sources say his job is safe.
The fate of several other head coaches doesn't seem so rosy. In fact, some will almost certainly be let go on Black Monday.
Here are the coaches that may want to freshen up their resumes on New Year's Day.
Todd Bowles (New York Jets)
It's pretty clear that Bowles is gone. Like the Buffalo Bills and Miami Dolphins, the Jets (4-11) are stuck in the same division as the New England Patriots, which means they are resigned to chasing a wild-card berth. But New York was expecting more from Bowles, especially a 10-6 record in his first season. Unless the Jets embarrass the Patriots by epic proportions Sunday at Foxboro, there is little chance he is sticking around. The good news for Bowles is that he can almost certainly expect to land a defensive coordinator job.
Vance Joseph (Denver Broncos)
Things don't look good for Joseph. The Broncos (6-9) looked uninspired for most of the season and caved when they unexpectedly found themselves in the playoff hunt, losing three straight games. In two seasons, Joseph failed to take the Broncos to the playoffs and most recently tasted defeat to the downtrodden Oakland Raiders. It's possible general manager John Elway and president Joe Ellis give Joseph another year but don't count on it.
Steve Wilks (Arizona Cardinals)
Would the Cardinals (3-12) really let go of Wilks after one season? Reports say that he is on the hot seat, which seems a bit unfair considering Wilks started the season with Sam Bradford at quarterback and then replaced him with rookie Josh Rosen. It also didn't help that the Los Angeles Rams have often looked unstoppable and the Seattle Seahawks have been among the biggest overachievers this season. As the Arizona Republic notes, since 2000, there have been just nine coaches who have been fired during or after just one season.
Dirk Koetter (Tampa Bay Buccaneers)
By the time the Buccaneers (5-10) close out their season Sunday, Koetter will probably have already had his desk cleared. He seemed to have known the writing was on the wall Friday when closed out his radio show: "Whether I'm here or not, I'm always going to be a Buc fan." It was a dismal season for the Bucs, as Tampa Bay didn't seem to know who their starting quarterback was and while the offense seemed lifeless in the final three weeks, averaging just 15.3 points. Koetter's 19-28 record through almost three seasons is probably enough reason for the Bucs to let him go.
Marvin Lewis (Cincinnati Bengals)
Is this the year? One can only guess. The Bengals (6-9) are going to miss the playoffs for the third-straight season and it's possible this is the last hurrah for Lewis, who has been the head coach since 2003. Lewis has never won a playoff game, prompting many to wonder why owner Mike Brown has kept him around this long. There were rumblings last year that the two sides would part ways, so perhaps Brown finally thinks that Lewis has overstayed his welcome.
Adam Gase (Miami Dolphins)
It was another brutal season for the Dolphins (7-8). There was a brief moment of hope when Miami pulled off a miracle win over New England in Week 14 but the optimism turned out to be short-lived. The Dolphins proceeded to get trounced by the Minnesota Vikings and then suffered a home loss to the lowly Jacksonville Jaguars, thus ending their playoff hopes. It's unclear if the Dolphins are willing to overlook the past two seasons after Gase helped lead them to a 10-6 record and a wild-card berth in 2016. The front office, however, is undoubtedly growing impatient with consistently coming up short.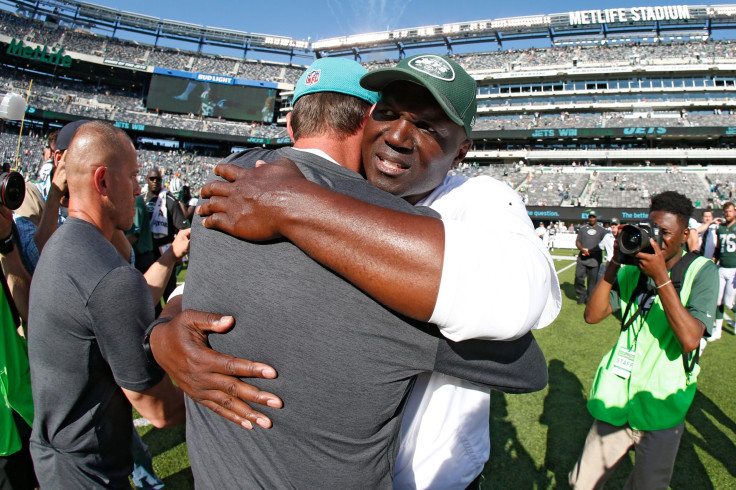 Jay Gruden (Washington Redskins)
Like Gase, Gruden is on the bubble after the Redskins (7-8) kept their playoff hopes alive before their offense shut down. Washington lost five of their last six games and in their last four games failed to score more than 16 points. Gruden has only reached the playoffs once in five years and his 35-43 record seems enough reason to be axed. Owner Dan Snyder isn't exactly known for making sound decisions so Gruden's status is anyone's guess.
Mike Tomlin (Pittsburgh Steelers)
This is a big long shot, especially since the Steelers (8-6-1) can still make the playoffs. It's not the Steelers' way to let go of a head coach after a career of strong success and there is a lot to like about Tomlin, who has a Super Bowl ring and is well-liked by players and staff. Most Steelers fans will cut Tomlin slack if Pittsburgh misses the playoffs, especially considering the absence of superstar running back Le'Veon Bell and after the 2017 injury to two-time Pro Bowl linebacker Ryan Shazier.
Bobby Ilich contributed to this report
© Copyright IBTimes 2023. All rights reserved.