912 Now Dead In Bangladesh; 8 Others Killed In Fire In Different Factory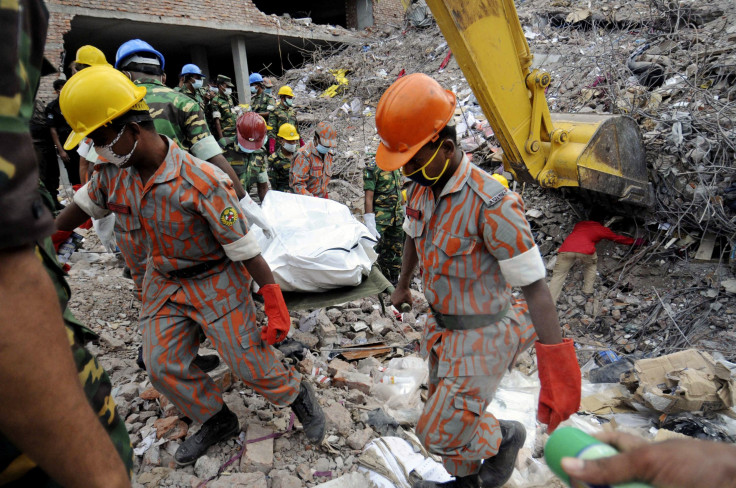 A Bangladeshi official announced Thursday morning that the new estimated death toll from the April 24 garment factory collapse in Rana Plaza near Dhaka, Bangladesh, has reached 912 people. Also on Thursday, a fire in another garment factory in Dhaka killed eight people, Reuters reported.
"It is not clear to us how the accident happened, but we are trying to find out the cause," Mohammad Atiqul Islam, president of the Bangladesh Garment Manufacturers and Exporters Association (BGMEA), told Reuters. The building is 11 stories tall, and was owned by the Tung Hai Group, a sweater and knitting exporter.
This latest incident happened in a factory that was one of 18 that the Bangaldeshi government shut down Wednesday, due to safety concerns. This factory and six others were cleared to re-open on Thursday.
USA Today reported one of the people killed in the factory fire was the building's owner. An employee of the factory told USA that they held routine fire safety drills, and that "safety was better here than in other factories."
The president of the Bangladesh Garment Manufacturers and Exporters Association told Reuters that it was unclear how the fire started.
Around 2,500 people have been rescued from the Rana Plaza building in the two weeks since it collapsed. The Wall Street Journal reported on Wednesday that none of the 70 retailers who owned space in the building plan to scale back production. Last week, the collpased building's owner, Sohel Rana, and two building engineers who issued the building's permits, were arrested.
The garment industry accounts for close to 80 percent of Bangladesh's exports, Reuters said.
© Copyright IBTimes 2023. All rights reserved.