Aaron Hernandez Broke? Convicted Murderer Spent NFL Money On Lawyers, Family Support, Attorney Says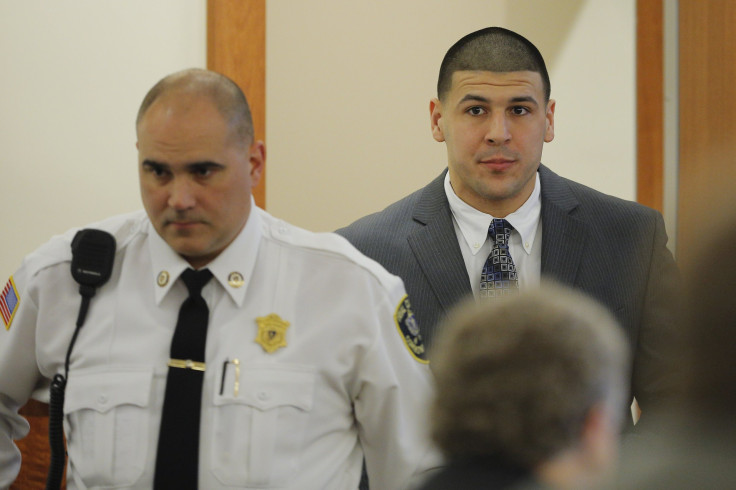 Convicted murderer Aaron Hernandez is broke, three years after the former NFL player signed a $40 million contract extension with the New England Patriots, his attorney said Thursday. Hernandez purportedly earned just a small part of the contract before it was voided after his arrest in connection with the death of Odin Lloyd, and he used most of the rest to pay an all-star legal team in his failed bid to avoid conviction for Lloyd's murder.
Hernandez received an automatic life sentence when he was convicted last month for Lloyd's 2013 murder in a North Attleboro, Massachusetts, industrial park. Lloyd's mother, Ursula Ward, has since filed a civil lawsuit against Hernandez for her son's wrongful death that could ultimately award her more than $5 million, the Associated Press reports.
Speaking at a preliminary hearing in Bristol County Court Thursday, Hernandez's attorney, John Fitzpatrick, said Hernandez has spent most of his remaining money to pay for his legal defense and to support his fiancée and young daughter. Hernandez was paid just a "fraction" of the $40 million deal he signed with the Patriots before his contract was terminated, he added, according to the Herald News in Fall River, Massachusetts.
"There's nothing left here as a practical matter. There's just nothing left here," Fitzpatrick said.
Hernandez's remaining assets have been a source of continued contention in the case. Ward's attorney, Douglas Sheff, said he plans to ask for a court order to learn more about Hernandez's financial status, according to the AP.
Hernandez pleaded not guilty to attempted witness intimidation Thursday in a separate court appearance in New Bedford, Massachusetts, related to his alleged participation in a Boston double homicide in 2012. He stands accused of shooting Alexander Bradley, an acquaintance who purportedly had knowledge of the case, in the face in 2013, Yahoo Sports reports.
The former Patriots star is serving a lifetime sentence at Souza-Baranowski Correctional Center, a maximum-security facility in Shirley, Massachusetts. He was purportedly reprimanded this week for involvement in a gang-related prison fight, CNN reported.
© Copyright IBTimes 2023. All rights reserved.