Aaron Hernandez Left Behind Hidden Wealth For Daughter, Report Says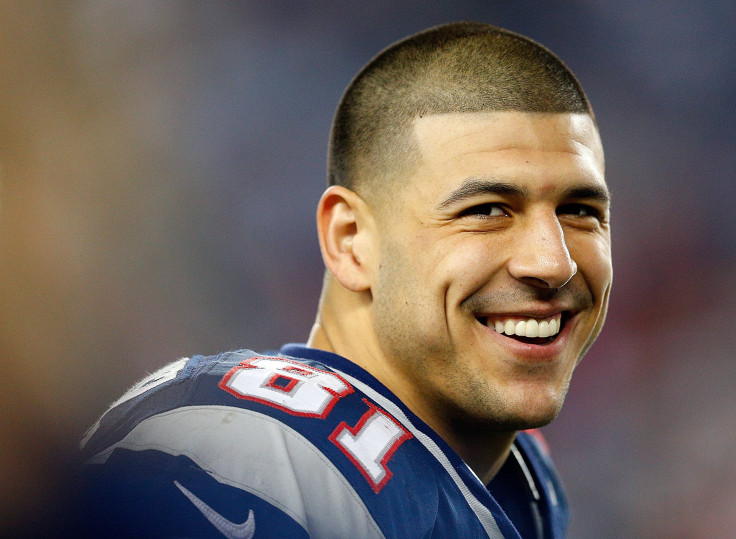 When Aaron Hernandez committed suicide in his prison cell in April, he left behind one of the most complicated, and controversial, legacies in sports. Once a shining young star in both college and professional football, the former New England Patriots tight end lost any and all goodwill after his arrest and subsequent conviction for the murder of Odin Lloyd. Hernandez also left behind a five-year-old daughter, who may still be the beneficiary of some of his NFL earnings.
The Boston Herald reports that, prior to his death, Hernandez arranged an irrevocable trust that named his daughter as the beneficiary. An irrevocable trust is a bundle of assets that can only be modified in any way by the beneficiary. When someone grants an irrevocable trust to another person, the grantor effectively signs away their right to ownership of those assets. That means Hernandez's daughter is "almost certainly guaranteed" access to whatever her father left behind for her, regardless of what outside forces want, according to NESN.
Another key aspect of an irrevocable trust is that nearly everything about it is not part of public record. That means we do not know for sure how much is in there or who it is for. That said, trustee Matthew Berlin wrote that the sole heir is a "minor child." Berlin also said the right to privacy of everyone involved "far outweighs the interest of the public in having access to such information."
Called the "AJH Irrevocable Trust," it was uncovered after being filed in family court by attorney John G. Dugan, who represents Hernandez's estate. As NESN points out, the estate is being used to pay off Hernandez's many debts, though perhaps not effectively. At the time of his arrest in 2013, Hernandez had $2.82 million in debt and just $1.2 million in assets. For what it is worth, Berlin said the contents of the irrevocable trust are not part of that estate, so Hernandez's daughter theoretically does not stand to lose her money for the sake of paying off her father's debts.
That said, Hernandez's daughter will only see that money if the courts decide in her favor. Per NESN, it is unlikely that her access to the funds will be revoked.
After a successful career with the Florida Gators, Hernandez broke out in the 2011 season along with Patriots teammate Rob Gronkowski as a record-breaking tight end tandem. The Patriots' innovative dual tight end offense carried them all the way to a narrow Super Bowl loss to the New York Giants that season.
Gronkowski was arrested and charged with the murder of Odin Lloyd in June 2013 and was released by the Patriots shortly thereafter. In April 2015, Hernandez was found guilty of first-degree murder and sentenced to life without the possibility of parole. Just over two years later, Hernandez committed suicide in his prison cell. After his death. researchers at Boston University found that Hernandez suffered from remarkably severe CTE for a person his age.
© Copyright IBTimes 2023. All rights reserved.