Aaron Rodgers' Next Team: Ranking The Top-10 Trade Destinations For Green Bay's Quarterback
Until Aaron Rodgers announces that he wants to return to the Green Bay Packers for the 2022 season, there will constantly be questions about where he might be traded. When the quarterback arrived at training camp last summer, it was largely assumed that he would be sent elsewhere following the 2021 campaign.
Most NFL teams would prefer to replace their current starting quarterbacks with Rodgers, but only some of them could realistically pull off a trade. A few teams won't be able to make a deal work because of salary-cap limitations. Green Bay is unlikely to send Rodgers to a place where he doesn't want to play, but the Packers also won't trade the back-to-back MVP without getting a massive haul in return.
Here's a ranking of the top-10 trade destinations for Rodgers in the 2022 offseason.
1) Denver Broncos
Denver has been Rodgers' most likely trade destination for a year. The Broncos might be a quarterback away from contending for a Super Bowl since they have a talented group of playmakers and a top-three scoring defense. The addition of new head coach Nathaniel Hackett, Green Bay's offensive coordinator for the last three years, has only increased the chances of Rodgers going to Denver.
2) Pittsburgh Steelers
Similar to Denver, Pittsburgh has a roster that is capable of making a deep playoff run if it adds a Pro Bowl-caliber quarterback. The Steelers last had a losing record in 2003 and are unlikely to accept a rebuilding year following Ben Roethlisberger's retirement. Pittsburgh has the best chance to trade for Rodgers of any team that made the 2022 playoffs.
3) Miami Dolphins
The Dolphins are projected to have more space under the salary cap than any other team this offseason. Miami has put together consecutive winning seasons, despite shaky quarterback play. The idea of living in Miami while playing on a playoff-caliber roster could certainly appeal to Rodgers. The Dolphins were reportedly close to moving on from Tua Tagovailoa last year.
4) Tampa Bay Buccaneers
Tom Brady left the only franchise he ever knew for Tampa Bay and won a Super Bowl in his first season with the Buccaneers. Why wouldn't Rodgers think about doing the same thing? Because the NFC South is an even weaker division than the NFC North, Rodgers could make the Bucs favorites in the conference. Green Bay might have second thoughts about sending Rodgers to the team that beat it in the NFC Championship Game just 13 months ago.
5) Indianapolis Colts
The Colts would've made the playoffs last season with an above-average quarterback. Indianapolis is expected to move on from Carson Wentz and seemingly has eyes on adding an elite signal-caller. Indianapolis has enough cap space to get a trade done, though not having a first-round pick this year complicates matters.
6) Philadelphia Eagles
When it comes to draft compensation, no realistic suitor can make a better trade offer to Green Bay than Philadelphia. The Eagles own the No. 15, No. 16 and No. 19 picks in the 2022 draft. Jalen Hurts wasn't so good in 2021 that Philadelphia would dismiss the chance to acquire a new starter.
7) San Francisco 49ers
If it were solely up to Rodgers, San Francisco might make the most sense. Rodgers is from northern California. The 49ers reached the 2022 NFC Championship Game. A deal between the Packers and 49ers is unlikely because San Francisco traded its first-round picks in 2022 and 2023 in order to draft Trey Lance.
8) Cleveland Browns
Cleveland could have a hard time justifying giving Baker Mayfield a long-term contract extension. The Browns have the pieces in place to compete for a title. Trading Rodgers to the AFC North would allow Green Bay to send the quarterback out of the conference. But does Rodgers want to finish his career in Cleveland?
9) Carolina Panthers
Owner David Tepper has been searching for a franchise quarterback since buying the Panthers in 2018. Carolina has reportedly tried to trade for Deshaun Watson, even as he faces many legal issues. The Panthers' defense got off to a strong start last season, but the roster needs more improvement before Carolina can be a championship contender.
10) Washington Commanders
Washington has enough cap space to acquire Rodgers, and the franchise might be looking to make a splash in its first season with a new nickname. In the 2020 season, Washington managed to win the NFC East, despite one of the NFL's worst quarterback situations. The Commanders still probably wouldn't be favored to win the division after a Rodgers trade.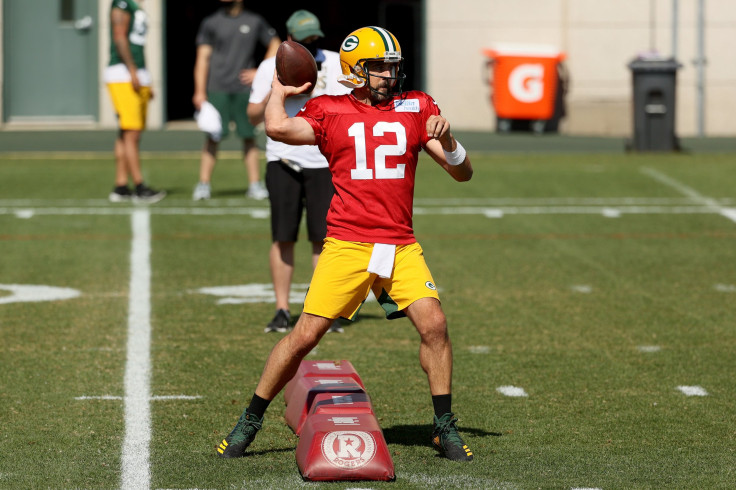 © Copyright IBTimes 2023. All rights reserved.