NFL Rumors: Teams Preparing To Trade For Deshaun Watson, Aaron Rodgers
For the last year, there's been speculation that Aaron Rodgers or Deshaun Watson could be traded. Those rumors could soon heat up now that the NFL has reached its offseason and teams are prepared to make trade offers for the quarterbacks.
As the Green Bay Packers wait for Rodgers to decide if he wants to return for the 2022 season, multiple teams have offers on the table for the MVP, according to ESPN's Dianna Russini. Sources have told ProFootballTalk that multiple teams are willing to trade for Watson, as long as he doesn't face criminal charges for accusations of sexual assault or misconduct.
Twenty-two massage therapists have levied allegations against Watson. It could be determined by April if Watson will be charged with any crimes. If Watson faces civil, but not criminal, charges he's expected to be traded.
The Miami Dolphins refrained from pulling the trigger on a Watson trade last season because the cases hadn't been settled, PFT reports. The Carolina Panthers were reportedly willing to trade for Watson, despite his legal issues, though the quarterback didn't want to waive his no-trade clause.
Watson's no-trade clause allows him significant input regarding where he will land. It's been thought that Rodgers would have a say in his destination if he asks for a trade. Packers General Manager Brian Gutekunst told reporters Wednesday that he never promised Rodgers he would trade him this offseason.
"That was not something I told him," Gutekunst said. "Again, I think the whole conversation with Aaron last season before he came back was that, regardless, at the end of this past season, that we would sit down as a group and we would work it out one way or another."
Rodgers is under contract for next season. He's said he will soon let the Packers know if he wants to remain in Green Bay for another year.
Rodgers has won two straight MVP awards, giving the quarterback four for his career. The Packers were upset in the divisional playoffs and haven't reached the Super Bowl in 11 years.
The Denver Broncos and Pittsburgh Steelers are viewed among the realistic possible destinations for Rodgers.
Watson didn't take a snap in 2021 after demanding a trade. The quarterback was among the league's best when he last played. Watson led the NFL with 4,823 passing yards and 8.9 yards per attempt, finishing ahead of Rodgers in his third MVP season.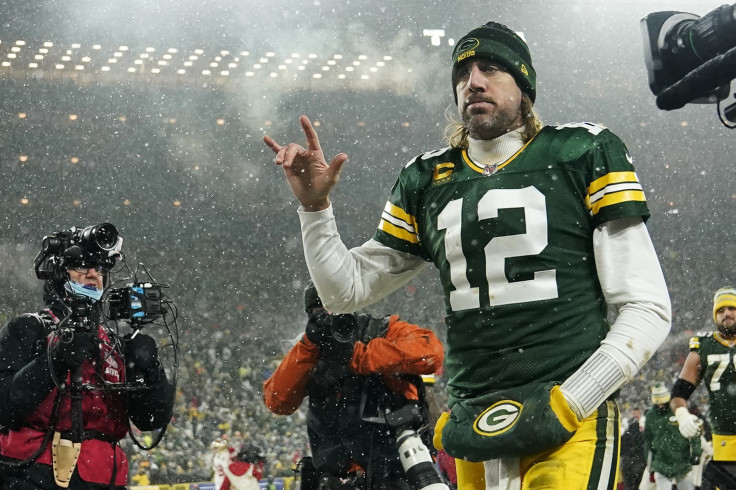 © Copyright IBTimes 2023. All rights reserved.