Academy Awards President Cheryl Boone Isaacs Responds After 'Oscars So White' Snubs On Twitter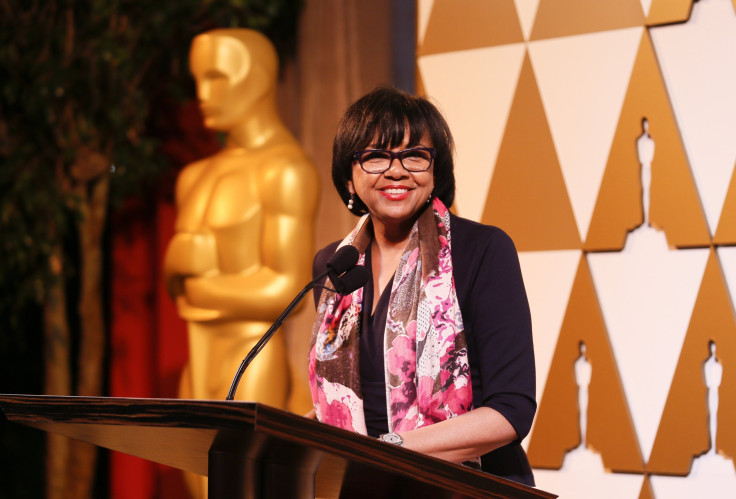 Now that the nominees for the 2015 Academy Awards have been revealed, people appear to have one very big complaint about the crop of talent up for prestigious Oscar awards, namely, the utter lack of diversity this year.
It didn't take long for many to note this will be the least diverse pool of nominees since the 70th Academy Awards in 1998. The acting categories have zero people of color as nominees, despite Ava DuVernay's film "Selma" being up for Best Picture. In addition, no female directors or screenwriters have been nominated for Oscars in 2015, either. The lack of diversity this year was so egregious that the hashtag #OscarsSoWhite began trending on Twitter, as Mashable noted.
After Cheryl Boone Isaacs, the president of the Academy of Motion Picture Arts and Sciences, co-announced the Oscars nominees for this year, she was asked by Vulture if the group had a problem with recognizing diversity. "Not at all. Not at all," replied Isaacs, who happens to be the first female African-American to serve as the organization's president.
"The good news is that the wealth of talent is there, and it's being discussed, and it's helpful so much for talent -- whether in front of the camera or behind the camera -- to have this recognition, to have this period of time where there is a lot of publicity, a lot of chitter-chatter," Isaacs said.
Still, the snub of David Oyelowo's work in "Selma" has raised many eyebrows. Since the Academy Awards' previous diversity low point in 1998, at least one person of color has been nominated in the four acting categories, as the Huffington Post pointed out.
The case could be made that, under Isaacs' presidency, the academy has seen an uptick in diversity. Last year's ceremony saw the top prize for Best Picture go to Steve McQueen's "12 Years a Slave," marking the first time a black filmmaker took home the prestigious award. However, this fact doesn't seem to be giving the academy a pass on the 2015 whitewashing.
According to an analysis done by the Los Angeles Times in 2013, about 93 percent of the 6,028 academy voting members were white and about 76 percent of them were male. Thanks to Isaacs, the voting pool grew by more than 400 new members over two years in an attempt to diversify it. However, many would argue that this effort has failed, given the snubs this year.
"In the last two years, we've made greater strides than we ever have in the past toward becoming a more diverse and inclusive organization through admitting new members and more inclusive classes of members," Isaacs told the Associated Press (via NBC). "And, personally, I would love to see and look forward to see a greater cultural diversity among all our nominees in all of our categories."
The 87th annual Academy Awards presentation will be shown on ABC Feb. 22 at 7 p.m. EST.
© Copyright IBTimes 2022. All rights reserved.
FOLLOW MORE IBT NEWS ON THE BELOW CHANNELS