Accra Floods 2015 Pictures: Ghana Death Toll Climbs As Capital Is Inundated With Water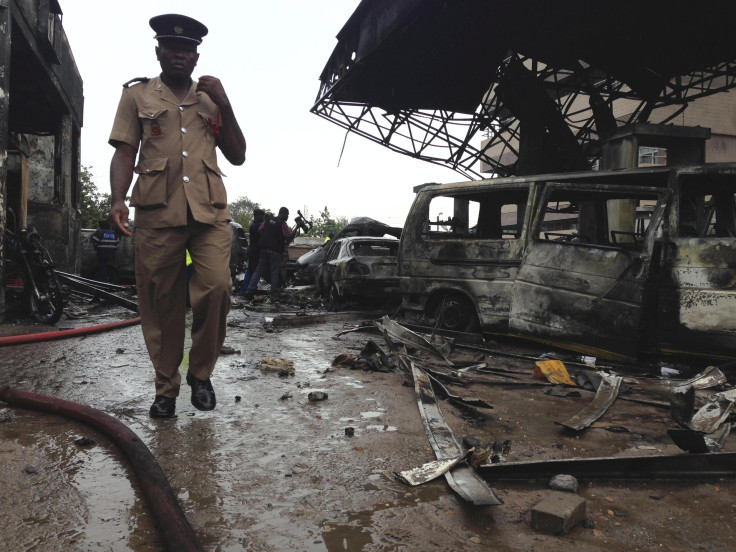 Public buses stuck in water. Dead bodies accumulating in river overflows. Drivers parked on sidewalks to try to prevent their vehicles from being carried away. These are the scenes of death and desperation that have unfolded across Ghana in recent days after massive rains ushered in heavy flooding across the African nation, local media reported.
As the rain continued Thursday, the crisis was compounded when dozens of people seeking shelter at a gas station in central Accra where caught in an explosion. The disaster raised new questions about the city's inadequate infrastructure.
Officials said at least 75 people died in the gas station blast. The flooding "caused the diesel and petrol to flow away from the gas station and a fire from a nearby house led to the explosion," said Billy Anaglate, spokesman for Ghana's national fire service.
President John Dramani Mahama said the death toll was "catastrophic" and offered condolences to families of the victims. "Steps will be taken to ensure that disastrous floods and their attendant deaths do not occur again," he said, according to the Associated Press.
The rains began early on Tuesday and quickly submerged the capital city. "Torrential rains are not just in Accra. The Achimota sub-station is flooded. This has led to unplanned power outages in some areas. The Ghana Armed Forces and Ghana National Fire Service, etc., have been deployed to ensure free movement of people among others. Please avoid fast-moving drains. If in difficulty, please call for help," Communications Minister Edward Omane Boamah said in a Facebook post.
Bus conductor Yaw Aforve was sleeping in his parked vehicle when the fire started at the gas station. He said he jumped into the floodwaters and when he came up the fire scorched his face. "I was swept away by the water to the other side [of the road]," he told the BBC. "I saw so many people screaming and shouting."
Below are pictures of the flooding and horror:
© Copyright IBTimes 2023. All rights reserved.