Adrien Broner vs. Shawn Porter: TV Channel, Start Time, Live Stream Info, Betting Odds For PBC Fight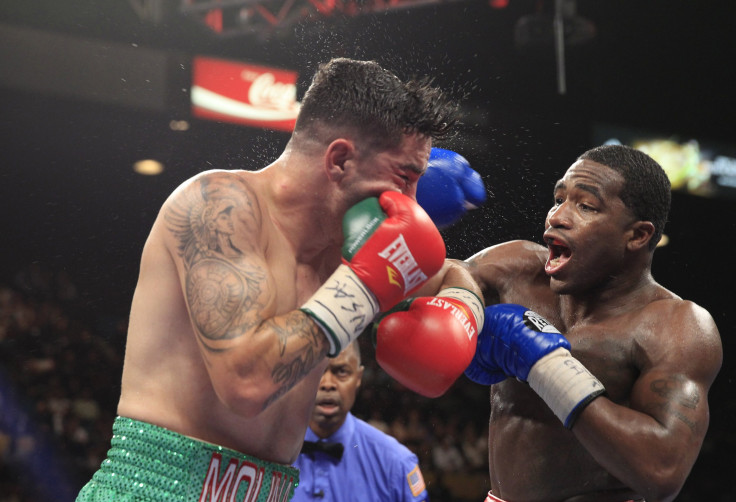 Adrien Broner (30-1, 22 KOs) insisted on a catch weight fight if he were to enter the ring with Shawn Porter (25-1, 16 KOs), and while the latter and most boxing experts were befuddled by the demand, the two former welterweight champions will duke it out in Premier Boxing Champions' main event Saturday in Las Vegas.
Nicknamed "The Problem," Broner's won three straight fights since he lost his WBA welterweight crown to Marcos Maidana back in December 2013, and despite Porter's equally accomplished resume, he requested a maximum fight weight of 144 pounds.
In search of a second consecutive victory after knocking out Erick Bone in March, Porter, 27, wasn't too concerned about the catch weight clause and said he was willing to do whatever necessary to face Broner. Though Porter also used the speculation surrounding the clause to toss a verbal jab.
"We were called and told that we were asked to be 144 pounds by Adrien Broner," Porter told ESPN. "That was not our decision. As soon as it was announced to me from my dad [trainer Kenny Porter], I told him whatever we need to do to make the fight.
"I guess there's a little kid from Cincinnati who's afraid of fighting at 147, even though that's a weight that he's even fought for a championship at. That's neither here nor there. The weigh-in is Friday. We'll be there. We'll be on weight, and we'll be excited to get on that scale and look him in the eyes at that weight and let him know that we're feeling good. Whatever advantage he thought could come from that, he's not getting any."
There was some uncertainty about the logistics and application of the clause over the last couple of days. Originally, Kenny Porter thought his son would have to participate in a second-day weigh-in on Saturday so as to comply with a rehydration part of the clause. Essentially the second weigh-in would have cut down the amount of pounds Shawn Porter could put back on in the hours leading up to the 12-round bout.
But a source told ESPN that there's to be no second weigh-in, which could be the reason odds makers have tipped the scales slightly in Porter's favor. He's now a -115 favorite. Broner has 7/4 odds to win in a decision, while Porter has 8/5 odds to win in a decision.
Start Time: 9:30 p.m. ET
TV Channel: NBC
Live Online: A live stream is available at NBC Live Extra
Betting Odds: Porter -115; over/under: 9.5 rounds
Prediction: These are two powerful but also careful fighters. Each may try for an early knockout, but the longer it goes Porter has the advantage. Porter over Broner via decision.
© Copyright IBTimes 2023. All rights reserved.