Afghan Opium Production Drops, But Cultivation Expands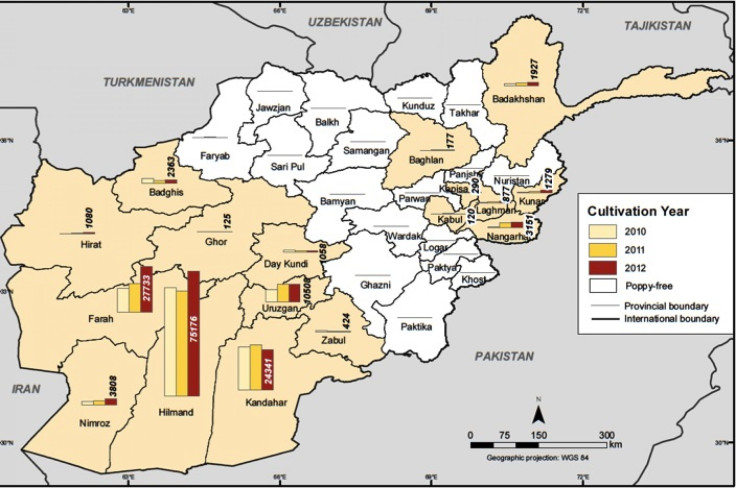 Opium production in Afghanistan has dropped by over a third despite an increase in the land area used to cultivate it, according to a new report from the U.N. Office on Drugs and Crime.
The 36 percent decrease in production has been attributed to poor weather and crop disease, while the UNODC noted an 18 percent increase in cultivation as a result of a rise in opium prices.
"The high level of opium prices reported in 2011 was one of the principal factors that led to the increase in opium poppy cultivation in 2012," the UNODC report reads.
"However, while opium prices remained high during 2012 there was some decline in all regions of the country, though differences between regions became more and more pronounced."
According to the UNODC, the majority of opium poppy cultivation occurs in nine provinces in the country's southern and western regions, including Farah, Nangarhar, Badghis and Nimroz, which all saw increases in cultivation.
Helmand province saw the greatest increase in cultivation (19 percent) and remained the country's main opium-cultivating province, accounting for nearly half of all cultivation in Afghanistan in 2012.
While the Afghan government has stepped up its efforts to eradicate opium poppy crops, the UNODC has said that farmers need to be provided with viable alternatives for making a living.
"Improved living conditions, including greater security and rule of law, should be encouraged in Helmand and nationwide if we are to help poor farming communities to support themselves," said UNODC's director Yury Fedotov, the BBC reported.
Afghanistan is the world's biggest opium producer, representing about 80 percent of the global supply, according to the New York Times. The raw material for heroin, Afghan opium is exported to Russia, Iran and Western Europe.
© Copyright IBTimes 2023. All rights reserved.